Saturday, June 27. 2015
Of course I'm happy America put on it's big boy pants and joined most of the rest of the modern world in recognising gay marriage over the squeals of the homophobes.
But there's another infographic that's just as pertinent to the news:
The Center for American Progress reports, in light of today's happy news, how far there still is to go. Only 21 states have passed laws banning discrimination against LGB people in employment, housing and public accommodation. Only 18 states have extended those bans to transgender people. You can read more here.
It is a great victory but America still lags horribly in so many ways.
Wednesday, June 24. 2015
I've been asked to clarify my position on how sexist I think Jurassic World is.
THIS IS PRETTY MUCH FULL OF SPOILERS
My acid test (I appreciate other people have other tests) is still to reverse the genders of the people involved and see how it plays out. So, let's imagine Owen recast as Gina (according to a couple of baby name websites Gina is one of the feminine forms of Owen) and Claire recast as Sinclair.
In all the "problem" scenes I've seen mentioned, whether I discussed them or not - the one where the boys want to stay with Owen in particular - my general opinion is that if it was Gina instead they'd still stick with her as the character is the one that's showed the skills to protect them so far. Claire's character, if Sinclair, has so far stood them, forgotten how many years since they last met and generally been useless. A spreadsheet-focussed management type (male or female) should work and be just as useless to them comparatively. So I don't think they choose Owen because he's male, they choose Owen because he's shown he's better able to protect them in the circumstances and a women cast in that role should be the one they chose. The point generalises to most scenes and I'll discuss the ones where I don't think it does so clearly below.
There is a different question about why they put men and women in those roles. I'm not sure I'd believe Bryce Dallas Howard as Gina - there are a number of women who could have pulled off that role well though - but I'd have loved to see Chris Pratt as Sinclair. That doesn't make this film particularly sexist, it's the background level of sexism in Hollywood. It doesn't deserve a free pass of course but neither does it deserve the level of hate it's getting in my opinion.
The scene in the trailer doesn't suggest Owen is a jerk to all women, he's specifically being a jerk to a woman that treated him badly after a date that went badly wrong. It's very unprofessional but it's not clearly sexist. Does it work with Gina and Sinclair? Probably, yes. (I've seen an argument that it's an angry man reacting to the woman that dumped him. I'm not sure about that, I've seen angry women reacting in very similar ways, but I'm not entirely unconvinced it's not a reaction more commonly used by men than women so it might fly.) So not clearly sexist. If there was evidence he acted that way to all women I'd certainly amend that position.
Up to this point, while I appreciate other people might be more upset - and I'm not saying Owen's behaviour is exemplary but the film is not obviously more sexist than the Hollywood norm - it's not got me up in arms.
The only scene that wouldn't work with Gina and Sinclair is the phone call with Karen. Sinclair couldn't be family-shamed because men just aren't. On that basis alone there is a clearly sexist element in this film. It's also a scene that happens, that many career women are familiar with. This probably isn't the right movie to have it in and that's why it's troubling for me. Such scenes do happen in reality of course and films should be able to depict things that happen, including things like this. However, because films are a short slice, each scene needs to have impact: it should be included for a reason. Owen being a jerk to Claire could have been written differently (maybe it should have been written differently) but it had a reason, it established their history. That part of that phone call scene seems to have no impact on the rest of the film except to make Claire feel guilty and inadequate. It shouldn't be there, in my opinion, because it's really not clear it contributes. (The only possibly argument for contribution is that it is what makes her check on her nephews, but please, she's been called on the fact she's not actually with them when she should be, she doesn't need the extra guilt to check in.) That scene makes this film have more than the Hollywood norm of sexism
All that said, I think Jurassic World has received even more opprobrium than is perhaps its due. And that is, I still think down to the character of Owen. Owen is more bothered about his raptors than people (male or female) and is antagonistic and rude to the female lead. It makes his character an easy mark for claims of chauvinism and the film an easy target for claims of sexism on all fronts. Jurassic World certainly deserves criticism for at least one of its scenes and there are reasoned arguments about several others that I'm not convinced by although you may be. But the sheer amount of vitriol seems over the top to me.
Monday, June 22. 2015
I'm going to start with the science: the palaeontology of Jurassic World is rather poor - the best known is of course that velociraptors ought to be turkey-sized and covered in feathers, not stand human-tall and be reptile skinned. (Less well known, their forelimbs should sweep across, like you're clapping your hands together too rather than how they're articulated in the film.) The list goes on and on, especially the pterosaurs just shouldn't be that scary - they almost certainly wouldn't be particularly aerodynamic and if they swept down and tried to pick up a person, they'd just shudder to halt, break everything and hit the ground in a heap.
BUT
, as they explain without it sounding particularly like exposition several times, these are not your original species, they're spliced together hybrids where they put something in to replace missing sequences (or worse) to make cool looking dinosaur-like things for a theme park. And you know what? They still look cool, so what the heck. There's some way beyond
Orphan Black
stretching of scientific credibility in producing these things and making them viable and all the rest back when the first one was made (although not now apparently) so I'll let them go with the rest of it.
Anyway, on to the film proper.
Jurassic World had the potential to be horrible and, if they'd concentrated solely on the "we made a new, bigger dinosaur, it escapes, we have to hunt it down" story - which is essentially the story of Jurassic Park just made bigger, and with more risk because there's 22,000+ people there, I think it would have been. However, they rather smartly didn't do that. They showed also showed us a working Jurassic World theme park for a decent chunk of the movie and that was both lovely to see and made me (and most people I've talked to) really excited and think "Yes, I'd save up and go if it was real!"
Now, there's a belief that the real appeal of dinosaurs is all to little boys. So we have a little boy as a character, who is madly in dinosaurs. (Sound familiar?) He has an older sibling who is less impressed. (Sound familiar again?) They're related to someone important who works at the park... although this time it's a hard-headed, numbers before people business person. (Which actually mashes up two character elements from the first movie.) There's also the visionary owner who is more interested in making it fun and how the animals are and the animal wrangler and so on. Before you start thinking this film is a complete retread, there are also a number of new major characters: the dodgy sponsors and so on, as well as some bit part characters like the dopey college kid working over his vacation who has to look up what to do when the emergency is declared and so on. (If you think it's spoiler that there's an emergency declared you really haven't watched the trailers have you!) So there is enough difference there, plus they expand on the basic character types they've carried over in enough interesting ways that although it's easy for me to point out how they're very similar they have their own strengths and weaknesses and interactions and work together to advance the plot differently. For example, in the first movie I remember a big cheer when the T. Rex ate the accountant, in this movie there was more of a cheer when the numbers-person picks up a gun and shoots the pterosaur.
The various chases, fights and so on in this movie are satisfying and it's nice to see the Jurassic Park concept up and running as a successful park too. The human villains are mostly suitably competent although occasionally stupid, thinking they know best and not listening when they really should. While it perhaps doesn't have quite the impact for me that the original
Jurassic Park
did 22 years ago (is it really 22 years ago?!) this is a perfectly good movie and plenty of fun.
Bechdel test: I'm going to say no but this is a judgement call. There is a fragment of a conversation where Claire and Karen talk about Karen's word choice mimicking their mother's. On its own that should count. However, since this is a fragment of a conversation when Karen is guilt tripping Claire because she promised to spend the weekend with the boys and she's all tied up with work, the conversation overall is about men (or boys), and it ends up with Karen assuring Claire she'll want to settle down and have kids sometime which further pushes my judgement that the conversation fails the test. There is also a conversation between Claire and Zara (her assistant) about scheduling, but this is all about "No, you can't meet your nephews for tea then, you've got a meeting" so again it's about the boys. There ought to be a chance for a conversation between Claire and Vivian in the control room but it doesn't crop up.
Russo test: No, sexuality is rarely discussed or demonstrated but the only characters were you get any insight are definitely straight.
Because this bit contains spoilers, it's going to continue under the fold. Read at your own risk!
Continue reading "Jurassic World"
Sunday, June 7. 2015
Sense8 is the latest work from the Wachowskis, this time in concert with J. Michael Straczynki of Babylon 5 fame and making a TV series on Netflix rather than a movie.
Like a lot of their work (except Bound) I think, they set out to explore the world through a particular lens and look at the questions that arise from that. The Matrix is essentially techno-Buddhism, The Matrix Reloaded is techno-kabbalah and so on. Jupiter Ascending perhaps avoids that, or perhaps it has that "What if those dreams of being a princess and important were came true?" vibe going through it rather than a more mystical/esoteric viewpoint. However, they often don't bother to share exactly what the central question or theme is. Whether they trust their audience to work it out or think it makes a better film that way isn't obvious but it's definitely their style. The question, at least the overt lens, Sense8 sets out to look at the world through, is what would it be like if we were completely connected with each other, or a group of others. You may choose to read into the way I've phrased that statement that I'm not convinced that's really the central point they're addressing, but since they don't explicitly state their questions I'll leave it to you to decide for yourself what you think it is. Anyway, my idea of what the question is would involve a lot of spoilers to explain.
It came to me, as I was watching one of the episodes of this series, that some of the things they were trying to put across would work much more smoothly in a book. And that is, I think, true of quite a few of their projects. Much though I enjoyed Cloud Atlas it is one of those books that had been described as unfilmable because of its themes and scope. Ultimately, of course, a lot of people didn't like the film adaptation that the Wachowskis made but no one can really imagine anyone else even attempting it. That is not to say all of their ideas suffer from this - there are elements that work really well in film that would struggle to work half as well in any other medium. But that contrast is perhaps stronger here than in their films.
I won't beat around the bush. More than most, this series won't be for everyone. The characters probably won't engage everyone and since they're not given equal time if the ones you particularly like are less frequently present you'll probably not be as engaged as if you like one of the more often shown characters. If you're homophobic or transphobic you'll probably want to stay well away. If you demand quick, clear answers to questions and a simple plot, or even clear questions, then this is definitely not for you. It's harder for me to judge this, but if you like a heavily plot-driven piece, with the characters serving that driving plot, you might be disappointed too. Certainly if you insist on a big chunk of discourse explaining what it all is and how it works you'll almost certainly be disappointed: the transition from the characters going "WTF is going on? Did you see that? Am I going mad?" to smoothly helping each other is gradual and subtle and basically experienced by them and us, the watchers. We don't get told it, we get shown it and we don't really realise we, and they, have learnt how to do it - or at least I didn't in binge watch mode - until it's all happening really smoothly for them.
Personally this all works for me My tastes run more to interesting characters and a plot that is good enough. Sense8 has a diverse array of characters and tries to follow them all, letting what in other shows would be driving plot points unfold only as they observe or uncover them. While I acknowledge there are times the story could, perhaps usefully, be told in other ways. In essence it's first-person story-telling for what is almost a hive mind. They are clearly different but they share so much that the boundaries are well and truly blurred. Does that make them singular or plural? Having set up their lens, this is certainly one of the questions the series keeps coming back to.
Like any TV show, like any film really, there are scenes that are stronger, scenes that are weaker. Some of the weakest scenes I find really head-scratchingly "OMG, I can't believe they let that get into the final release" bad. But there are so many scenes I find beautiful, intricate and interesting, occasionally downright laugh our loud funny too, that I'm prepared to let the dodgy as heck ones slide because, thankfully, they're few and far enough between they'd don't really affect my overall impression of the show. As you might guess, having name checked both Bound and The Matrix there are both some sex scenes and some beautifully choreographed fight scenes too. Then there's a Bollywood dance scene and more thrown in for good measure in the visual sheer spectacle stakes.
I hope this does well enough for Netfilx to sign it up for as second season. I certainly enjoyed it. And in what is one of the ultimate compliments, like a few other shows I sat and watched it, properly watched it. No having it on and reading at the same time. Binge watched the series in a weekend (interrupted only for Orphan Black) and didn't read, didn't surf, paused it when I was on the computer and so on.
I had hoped to end with a scene from the show that demonstrates just how the moving between the members of the cluster works. There are many of them but obviously most of them are spoiler-laden. Thankfully a few, when they're just having fun, do exist and someone else clipped the scene I hoped to use. It's not only spoiler-free, it's got all of the cluster (although Nomi's appearance is incredibly brief) all singing along to 4 Non Blondes and What's Up? with a bit of them swapping places and so on thrown in for good measure (You see Wolfgang and Kala swapping around between the karaoke bar in Berlin and her bedroom and a rooftop in Mumbai). There are others scenes that do this huge pile-on but they tend to be pretty spoiler-heavy and few other scenes of them having fun but they don't have all the members of the cluster swapping around in as dynamic a manner as this one.
Friday, June 5. 2015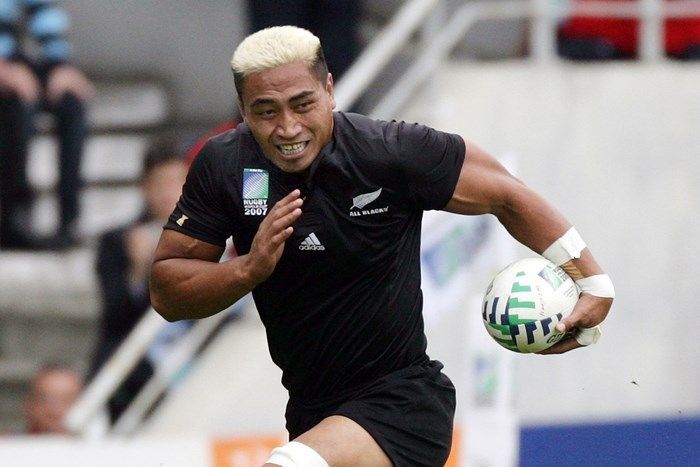 Farewell Jerry. Throughout history the blind-side flanker is often overlooked, even in New Zealand where it is the open-side that is the glamour position rather than the first five-eighth/fly-half. They do a lot of unsung work: plugging a gap to persuade teams not to go that way; making a tackle on the fringes; carrying a ball one-off when you know there's no glory, no try, little chance of a big break, it's just to recycle the ball in a better position.
But in his pomp, Collins had that brightly-dyed hair and always stood out. As an All-Black with 48 caps he played to the standard you would expect. Shortly after he retired from international rugby he was visiting Devon and spotted by the Barnstaple head coach who invited him to watch them play. He coached a session with the juniors (this is common for a lot of All Blacks, their superstars go back and coach at their junior clubs when they can) and when they asked if they could repay him, he asked if he could play a game. This resulted in him playing for Barnstaple 2nd XV against Newton Abbott. You have to feel sorry for the Newton Abbott side - a few weeks before this guy had been playing in the Rugby World Cup! (Wayne Barnes and Tony Spreadbury are still not welcome in New Zealand or they might well have gone further.) The story would probably linger in every rugby fan's memory but it was sealed forever when, another month or so later Collins played for the Barbarians against South Africa. By tradition Barbarians have a uniform shirt and shorts but play in the socks of their club. He sought, and was granted, permission to play in Barnstaple socks!
There are many other stories. He captained New Zealand vs Argentina and addressed both teams afterwards, winning praise from the Argentinians for his fluent Spanish. In Super Rugby the Australians nominate their most feared opponent every year (I'm sure the other teams do too). In 2005 there was only one name on the list. Jerry "The Hitman" Collins.
He had largely disappeared from my screen, playing for less time in France and while others might have been moving on into life after rugby with his wife and a very young baby, he had signed to move from France to Wales to get more playing time next year. Now he and his wife are dead and it seems his baby is severely injured. The world seems a sadder place.
Saturday, May 23. 2015
Much like the last film I watched Mad Max: Fury Road ticks all the boxes it has to tick. Admittedly the boxes are rather different - Max is suitably mad, still a loner and a road warrior. The film pretty much opens with him driving off with his iconic car and supercharger in fact. On top of this there are lots and lots of car chases, car fights, explosions, fights on cars and an oil tanker this time and all the rest. There's a big, nay huge, dessert landscape and water being hoarded forms a core part of the story. Add in a despotic warlord who hoards fertile women even more jealously than he hoards water and some rather roughly sketched out death cult that essentially worships him and obeys his every whim and there's the makings of the latest society Max is unlucky enough to meet.
In this film, Max is probably shown as madder than in the earlier three films. He clearly suffers from PTSD, complete with flashbacks and for added fun he hears voices too! While I'm not sure it's a good way to show even the forms of PTSD that have flashbacks it is certainly incredibly effective within the film and it's pretty crippling at various points which is a novel, but nice, touch.
Much has also been made of the fact that this film, in contrast to so many others these days, largely uses practical effects rather than CGI. I have to say it is noticeable, the colour tone of this movie is brilliant and strong throughout, with a few moments (like the sandstorm that you see in the trailer) and a longish night chase where that's not true. But it actually looked to me as if they shot at night and that works too. Having a trailer for Jurassic World and all its CGI effects before Mad Max started just highlighted the difference. And it was much more startling on the big screen than watching it on a website.
Much has also been made of Charlize Theron's role as a bad-ass female action figure. While Tom Hardy is playing the title character, both names are on the same screen: it is impossible to tell who is being touted as the star. Max is much more of an anti-hero than in previous films and certainly much more of a bastard and undoubtedly more selfish than she is on a number of occasions. Furiosa, possibly the Fury of the road in the title (this film is really about her journey), is much less ambiguously a hero both throughout the film and in her final moments. There are some sad muppets out there who don't like this element of the film but I think it's all good. Theron plays the role she's given brilliantly, Furiosa and Max play brilliantly alongside each other as foes and later as allies and it works wonderfully as far as I'm concerned.
The muppets in particular seem to focus on the scene when Max and Furiosa fight, complaining that a woman could never stand up to man in hand-to-hand combat like that. Given the society they live in and her role in it, Furiosa is clearly a trained warrior so it's eminently possible he shouldn't win. It's still possible that Max at full strength ought to be able to beat her - at the moments it's down to the two of them and sheer muscle he tends to do well. But did all the moaners and shouters miss the interference of the other people in the fight which certainly played a significant part? And the fact that Max had been donating blood for an undisclosed period before the fight and was therefore certainly not at his best? No, of course not, they just shouted and ranted.
Those who have worried and screamed about Charlize Theron as an action hero should be much more worried about something else I think. There were a LOT of female roles in this film, several of them in big, or at least long parts. I'm not sure what the last film I saw with this many chunky roles for women in it was. (It beats Pitch Perfect on numbers and leaves it standing on proportions and that probably comes closest.) One really interesting thing that did pop up, all of the big characters, male and female, had their moments of weakness in different ways. Max actually had many of them when his PTSD caused problems. But they all, in a crunch had their moments of absolutely critical strength too. Max and Furiosa had more than anyone else but it's anyone's guess, without keeping score, who did better out of the two of them. Yes, the gender of each of these characters was essential for the story. But past that the characters were written with a weakness and some strengths. It didn't matter if they were male or female, they were all good at something or just coped with all the random shit going on around them spectacularly well and they all had moments when they went wibble and lost it. In other words they were all interesting in their own right and they all contributed at different times. Also, in the week when Maggie Gyllenhaal was told she's too old to be the love interest of a 55 year old man (she's 37) a number of the women in this film are in their 70's! And they're sitting there shooting and riding motorbikes and all the rest. It seems odd to say a Mad Max movie, petrolheads and explosions and fights and all should be held up as one of the least sexist and ageist pieces of movie writing I've ever seen but I honestly think it is. To my mind it's not a feminist call to arms, or it shouldn't be, but it appears to be simply because it's lacking the amount of sexism we normally see in film.
All of that political stuff aside, there's actually very little plot here. But there's enough to tie together the chases and fights. There's lots of cars and fights and bangs and effects. Many of them are truly spectacular, all of them are at least very good. Overall I found it to be a load of fun. It's not a movie to watch again and again and tease out the nuances and so on. But, much like The Mummy it's got enough entertainment value that it just doesn't matter. You don't need a particularly twisty plot and all the rest when it's put together right and the elements mesh in such a fun way as this one. I can imagine in 10 years time quite happily half-watching this much as I half-watch The Mummy now while I'm doing other things. It's fun enough to do that and simple enough it doesn't matter if I've seen it 20 times and walk about for 10 minutes in the middle to do something more important right then.
While many of the stunts are spectacular and highly skilled and all the rest and there is something fun about high octane car chases, motorbike stunts and so on, for me there's always something more special about seeing people doing crazy things. For that reason, although some of the other stunts might be bigger bangs and more spectacular for you, the chase and fight scenes with the pole-cats - men (I think they were all men) on the top of poles on speeding cars, swinging around to land on the tanker, snatch people up and so on is probably the most impressive single element of the whole film. You see a tiny clip of them in the trailer but in the film there's much more and they're much more impressive.
One final note, on the lighter side. If you're going to have a Mad Max movie in all it's high-speed fury I think you need a speed metal sound track. The main warlord of the bad guys agrees and part of his battle train is the band-wagon. That's a wagon with a rack of drummers on the back, and a speaker stack on the front with a guitarist suspended in front of them. The guitarist isn't completely defenceless though, get some good riffs going and his guitar spouts flames. Charge into battle with your own live music!
Bechdel test. Yes, absolutely. There are a shedload of named female characters (I think 15 but I didn't count it on IMDB so I might have missed some). They talk about all kinds of things in small groups, big groups and so on. Perhaps the most affecting conversation is about killing people and then the treasure trove of seeds that she plants and hopes will take root.
Russo test. No. No one identifies as LGBT. The Clan of the Many Mothers is all female and if you really want to read L themes into their actions you probably could (there's a lot of man hating and mutual support and touching) but it's really not laid out in any clear way. It could be long friendship and support on the battlefield for a comrade in arms, nothing more.
Friday, May 22. 2015
In terms of the boxes it had to tick, Pitch Perfect ticks them all perfectly well. There is a lot of a cappella singing, and if that's your thing you'll be very happy. There are lots of styles of song chosen too so while you might not like some of the music the chances are you'll like some of it. There is some serious choreography going on too at various points and that's nicely worked into it.
It's also a college-based movie so we have the inevitable growing-up, seeing things as an adult story line and it ticks that box too. There's a young love story in there as well.
There's plenty of PYTs whether your gaze skews male, female or you're happy to take them both. We spend more time with the women, Anna Kendrick is the star for one thing and it's her story and her time with the Barden Bellas we follow, but I suspect the marketers thought this would skew female in the audience so there's a fair chunk of male eye-candy moments.
As this film was released 3 years ago, a quick synopsis is in order and not really breaking my no-spoiler rule. Fresher Beca wants to be a DJ and doesn't want to be at college. She agrees to try and join something and give it a go for a year to appease her dad and is overheard singing in the shower by one of the a cappella women and is recruited. They compete and come second in the local contest to the much more dynamic boy group the Treblemakers from their own university but advance to the regionals (a semi-final in effect). Meanwhile Beca is working at the radio station and making friends with a cute boy from the boy group who would clearly like there to be more going on. There is, in true movie fashion, a failure at the semi-final stage a 'magical' reprieve and a fight for the 'soul' of the Bellas that leads to them doing something radical, new and ultimately winning (and beating the Troublemakers). This includes moving from a set where they basically sing three or four songs back to back to a set where they put together a much more modern mix, moving between songs and singers smoothly. It certainly helps that Beca (Kendrick) is an aspiring DJ and her mixes are good enough that she gets a break on the student radio station ages before anyone normally does. She also wins the fight for the soul of the Bellas and leads this new way.
The problem with Pitch Perfect is really deeply ironic. Initially the Bellas are, with the best will in the world, also rans. They do everything well, well enough to get to the regional finals but their performances are safe, predictable and don't really connect with the audience while being technically very hard to fault. This film is rather like the Bellas before the fight for their soul. It does everything well but to my mind it was staid and predictable. Every emotional beat was nicely acted, don't get me wrong, but I knew when it was coming and what it was going to be so there was no sense of drama. The writers, as I've already foreshadowed (a technique they missed out on) could have done with learning the lesson they made their characters learn.
In fairness, because they have to fit big chunks of singing, or singing and dancing into the film they were constrained in what they could do because it wasn't a musical and so they couldn't fit the big beats into the singing. Some of the stories clearly take time to develop: you can't have the "You don't have to rescue me, you're not my boyfriend" fight scene if they haven't spent enough time together to him think there might be some chance she might be interested. But one element that marched to a different rhythm, one part that didn't run exactly as expected exactly when it was expected to, just like their final performance, that would have made the film itself as well as the singing and dancing much more enjoyable, at least for me. There are chances for this, Beca could have taken a chance on wild sex with Jesse, or at least with making him her boyfriend early. She didn't have to grow up and understand her dad. Her dad could have understood her moment of youthful rebellion better. But no, technically hard to fault but lacking in soul, at least to my mind.
Bechdel Test: Yes. There's an all-women singing group that is front and centre for most of the film. They are all named, they talk about singing a lot and boys surprisingly little.
Russo Test: Pitch Perfect passes step one, Cynthia is a lesbian. However, this is asserted early by another, confirmed late by Cynthia. Given how little is made of it, it clearly passes step 2. It's hard to say if she's there as the token lesbian for authenticity but since her outing as gay is "I've had a serious gambling problem for the last two years since my girlfriend left me" it's hard to say she's set up for just a punchline so I'll say a borderline yes to step 3. So that's a pass. My second of the year and, ironically enough BOTH films not released for the cinema this year!
---
Although not relevant for most of you, I had to crank the volume way up and still found it hard to hear the dialogue in most of this film, although the singing came through loud and clear.
Friday, May 15. 2015
Paste is a tool that, as you might guess from its name helps with pasting things. In fact it's a clipboard manager for the Mac. There are a few of these around and I've looked at several over the years but they've always disrupted rather than helped my workflow and so they haven't survived which is the acid test.
Paste just unobtrusively (or otherwise, by default there's a sound effect that I found annoying but you can turn it off) copies things anything you copy to its list too. You can choose how long you want this stored list to be. I'm currently going for 50 items. If you want to cut and paste normally, you can, just like normal. If you want to invoke Paste though, you hit your chosen shortcut (or there's a menubar icon) which can be just about anything as long as it doesn't contain Cmd-V and your desktop recedes and blurs out and the snippets in the Paste memory appear along the bottom of the screen as a nicely presented visual list. You can scroll along them, find the one you want and double click it. This will put it to the left hand edge of the Paste queue and into your clipboard so you can just hit Cmd-V to paste it. You can also use the preferences to have it automatically paste it; I've only just started using that, I wanted to get used to the rest of it first, but as with everything else it works as smoothly as you would expect. Note, it doesn't work the very first time because you have to give it permission to install a script somewhere and so there isn't an active app for it to paste into when you come back from doing that. But that one little wtf moment aside, every time after that it works just fine.
Although most people probably won't need it (I don't), you can also right click the managed items to get extra options such as paste without styles or sharing via Messages and Mail, or to delete an item.
The menu bar icon offers the sorts of things you'd expect like quit and access to preferences with options to set apps which will not have their contents added to the history when copied (Keychain Access is there by default), to set the size of the history (number of items stored) and to clear the pasteboard history (only likely to need this if you set an unlimited Paste history). So far I'm happy with 50. It gives me a balance between the amount I'm likely to need in any working day and the amount it's convenient to search. Yes, I'm likely to be able to use more than that in theory but there's a point where it's just as easy to retype or copy again as it is to scroll through dozens of items in the clipboard history. If I worked in a different job that number might be different: if I was pasting a load of images around a lot for example with a lot of repeated elements then I might want more, but for what I do 50 works nicely. You can have an unlimited clipboard history at which point the ability to clear it is almost certainly important.
As you would expect from a clipboard manager this works for all items, images, text etc. Paste also adds a "header" that shows you the app you copied it from and the nature of the contents (text, image, link etc.) and then a body that shows either a thumbnail of the image or the start of the text (about 10 lines although if you're pasting from a word processor document you won't see 10 full lines of that as you a number of thumbnails (I get nine but I assume it depends on your screen size and resolution and so on)). Images are nicely resized so you get a proper thumbnail, not a section of the image. I haven't really tried copying and pasting audio and video clips because that isn't something I have to do that often. So I tried a video and audio file just for completeness - you get "file" as the type of a video file and the still of the first frame. For audio files you get a similar thing and any image information associated with it - that might be album artwork if it's an iTunes file or the normal audio file icon otherwise. (Having them show as "file" might be affected because I was picking them from Finder though.) But Paste will handle them just fine.
It's rare that I'd say an app fits in so well that Apple should really just buy it and incorporate into their OS (I would add PopChar to that list, I'd honestly forgotten you could do something similar with Apple's Keyboard Preferences but PopChar does it a lot better). But, to be honest, Paste is another one of those. It works beautifully and simply and doesn't interfere with the normal way cutting and pasting works but adds extra functionality if you want it smoothly and simply.
Sunday, May 10. 2015
iZombie really epitomises a modern trend from a different sort of medium: the mashup. As you might guess from the title there's a zombie, so we're fairly firmly in horror territory - brain eating and all. Adding the iModifier gives us a clue it's going to be modern but it's also an indicator it's about a self-aware zombie which is unusual, and important. What isn't obvious from the title, but is rapidly established, is that there's a strong tie to the police procedural and a crime (and indeed murder) of the week structure. There is also a fairly broad strain of humour. That's not to say the jokes are crude, they're often subtle in fact, but they throw in a variety of pop/geek culture references sufficiently organically that if you don't catch them you aren't left going WTF? but if you do you'll probably laugh, smile wryly or something in between. At least that's how I find it.
Structurally, the murder victim provides a brain for our protagonist and alters her personality somewhat, as well as giving her flashbacks to the murder which help with solving the crimes. This could be annoying, sometimes it is deliberately pretty annoying, but because it is such a central part of the show it has been carefully thought through in terms of how it is presented and that works nicely as does the central conceit even when the personality is annoying. It certainly helps that the star of the show is capable of pulling off these changes in personality and yet maintaining a sense of continuity through them all. I won't go into details but we don't go to the extremes of Dollhouse which blanked its dolls and put an entirely new personality in, this is a more carefully crafted emphasis of certain traits plus adding a temporary new skill set which helps keep the story moving I feel.
Unlike a lot of police procedurals iZombie has strong character development. It's uneven so far, inevitably. Obviously the star gets more time than supporting cast and the supporting cast are getting different amounts of time but some of those supporting characters were fairly interesting in their own rightfrom the start while some were decidedly bland and stereotypical. Time has been spent on them all but now most of the bland ones have been made decidedly more interesting as the series has gone along.
The other thing iZombie has which distinguishes from a typical police procedural, but which has more in common with the horror TV series, is a strong season story arc. There is a well-defined bad guy, we see his character developing as well as his plot being established. We also see it tying back to various of the other characters in various interesting and often unexpected ways. Without going into a lot of spoilery detail this helps create suspense about the role of some of the characters while other forms of threats and doubts swirl around various others. Yes, in another show you'd simply say that's good story management and you'd be right. But other shows don't typically juggle the demands of a police procedural and crime of the week into that level of story arc development. iZombie, like Orphan Black, has a lot of balls in the air. Like Orphan Black there are times when I'm left thinking "Arc X is being left out in the cold a bit." But, although iZombie is much more light-hearted than Orphan Black, and a lot newer, I already enjoy it and I trust the team to pick it up and develop it at the right point for them. I'm prepared to let it come along when they think it's right.
Your tastes may vary, but although we're only halfway through a short first season, I've found iZombie varies between the very good and the "merely" good. It's had a short sample so far and it could still misstep horribly
Saturday, May 2. 2015
This film really ought to be easier to like. It gets a load of more or less likeable big characters, throws them together in a team that worked well last time so ought to work well this time, puts them up against a big baddie and lets them loose.
Some of the elements, particularly those when the characters aren't fighting but are talking, relaxing and the like, or when they're flying home after a fight work really well in my opinion. Some of the one-liners in the fights are good too. This quieter time gave us a good chunk of backstory for Hawkeye and made him a much better character for it. At the end of the film the Avengers are doing hero-type things and trying their utmost to rescue as many civilians as they can from Ultron. Hawkeye thinks it's all done and is on the lifeboat and then he sees a little boy still in the rubble. Knowing what is going on in his personal life and just how dangerous it is makes that moment when you see him acknowledge he must go and rescue the boy and run off the lifeboat to do the right thing yet again have some emotional weight. There was some backstory for Black Widow too but not as much and while she's somewhat of a stereotype still, she was never as weakly drawn a character.
Some of these team-bonding moments, my story-structure mind suggest, were largely included to try to make Tony Stark's fear that we're shown early in the movie (and which is essentially the plot's driving force) ring more powerfully true, However, it didn't really work for me because Stark is such an individualist it's hard to see the death of the team as even part of his biggest fear. It was also meant to make the later attempts to divide and conquer the team have more dramatic impact. Again, I felt it was not hugely successful. It was clear to me (and I assume everyone, it wasn't subtle) what was going on and while there was a consequence of the divide and conquer tactic (fanboy service in the form of a Hulk v Iron Man fight) it didn't seem that effective in any other way - the bad guys still limped away because the damage was done before the mojo took effect, and the Avengers also limped away but regrouped fast enough, maybe even too fast. About three-quarters of the way through the film there is a huge face-off between various groups of Avengers led by Captain America and Tony Stark that is ended dramatically by Thor and then by Mjolnir and a very nice call-back to an earlier scene. This is essentially only followed by the final battle. None of that confrontation and resentment has lingered at all. I assume this is due to the requirements for forthcoming films (I'm informed by the internet that the next Captain America movie is a fight between Iron Man and Captain America, I guess they're having them starting as allies and then falling out all self-contained) rather than the internal logic of this one because other elements of emotional burden that come from this one remain and are carried through logically and sadly. Yes, I am thinking Natasha staring at that wall.
Despite that missed beat about Stark and Captain America, the actual plot more or less hangs together I think, on a big scale. The set-up basically leads into the middle which more or less leads to the ending. Look closer though and there are times where I look back at it, where I looked at it during the film even, and wonder why they're doing that. I won't pull out particular examples because it will result in a list of spoilers but there were a number of occasions where I was left thinking "Um, why?" or worse "NO! Don't do that! Do it like that you morons!" One little comment I will throw in because it's not really a spolier: I doubt Tony Stark has records, even from his dad, left on paper and not digitised. That sort of thing was rife and I felt it was a big step down from the first film too. In that one they got a lot of the smaller plot details right too.
And then there was Ultron. Trying to follow Loki as the baddie is always going to be a hard thing. For me, Ultron failed dismally. There were also a lot of pointers in the film to the idea that Ultron was essentially an evil version of Tony Stark. But actually for most of the film, Tony Stark was a bad version of Tony Stark - he'd lost any semblance of charm and replaced it with him at his most douchebag, he'd lost anyone who would (or perhaps could) act as a moral compass with the absence of Pepper. This was Tony at his most arrogant "I will do this because I can" making a poorly realised version of him that was "I will do this because I'm only speeding your inevitable death anyway." Charisma-lacking, arsehole Stark, making even more charisma-lacking, evil arsehole robot-Stark. Really not good enough for the big bad.
But, beyond a simple lack of charisma for a cgi robot, there was another issue that I think was even bigger in a tentpole movie. In Avengers Assemble there was a variety of enemies so the various members of the Avengers could usefully contribute against different sorts of baddies. This time, all the baddies were Ultron, and although it had been said several times Ultron could and had invaded everything he had basically a very standard set of bodies. Why not build automated tanks and the like? This standardised body plan meant even Hawkeye and Black Widow had to be able to hold their own. Yes, Thor could take them out a dozen at a time, more if they clustered, while Black Widow and Hawkeye were more one-on-one. I understand all of that. Although the fights usually looked suitably spectacular and had the required booms, bangs and so on, and were certainly well choreographed, they lacked real impact. I think that was because Ultron wasn't dangerous enough to the Avengers to make it a real threat, just an impediment, and so there wasn't much emotion, it was spectacle without engagement.
In fact many of the best moments around the fight scenes for me were the small moments when the heroes took time off from making impeccably choreographed cgi scrap metal and mounted some form of rescue of an individual. I've mentioned one of those above. Another good one was Hawkeye's pep-talk to Scarlet Witch and then going out the door to step back into the fray. Quiet moments without robots (although I'm quite sure that cars off the bridge rescue had a shed-load of cgi). There were good moments in mid-fight too but again, for me, they were largely the smaller moments. Thor's distraction speech and finally running out of things to say was funny (deliberately so), and an excellent follow up to his (also played for laughs) speech meant to soothe Banner's guilt. (Chris Hemsworth is just meant to be Thor and really lets rip. When he gets too old to play the part, if the Marvel movie juggernaut is still churning them out, they'll have a job on their hands to replace him.) Scarlet Witch's vengeance scene wasn't at all funny but it had emotional heft for her character and it worked too because it came through as mattering to her and so it felt important unlike most of the rest of it. I was engaged for those few moments.
If you're a fan of gratuitous cleavage shots, and they were completely gratuitous, Black Widow and Scarlet Witch (once she decides to join with the Avengers) seem to be competing for who can get the closest to flashing nipple without quite showing any. However, Elizabeth Olsen seems to have forgotten about chewing her lip since Godzilla, or perhaps somewhat mad, bad and dangerous to know is a happier place for her to act than hero's bimbo girlfriend. From a technical perspective that was nice to see.
I wanted to like this film more than I did. On reflection, I'd have been happy if they'd edited out all the stuff that actually made it a summer blockbuster: Ultron, big fights etc. and given us a nice 90 minutes of the characters of the Avengers kicking back and having fun together. It would have pissed off all the fanboys out there, but I think it would have been a much better (and much cheaper) film to make. If you've got to have a baddie, I hope they pick one that really works well as a challenge for the team in a way that Ultron just didn't for the next movie.
Russo test: Unless I blinked and missed it, no, not at all. Although I imagine there will be some Scarlet Witch/Black Widow femslash doing the rounds, and Black Widow paid lip service to the Captain America/Tony Stark slash fans.
Bechdel Test: Yes. There are multiple named female characters, many of them interact and have chats, albeit often short. Most obvious and prolonged is Natasha and Hawkeye's wife, Laura but there are others, such as Scarlet Witch/Wanda and Dr. Cho.
Monday, April 27. 2015
How much should we trust the opinion polls?
I'm worried about the election prediction sites and their processes - there are three I've come across Election Calculus, Election Hustings (which basically agree that Labour and the Conservatives will both win about 278–283 seats and the SNP around 45, the numbers fluctuate a bit as new opinion polls come in currently one says 281 each, the other says Lab 282, Con 280) and Election Forecast which makes two predictions but generally has the Conservatives doing quite a little bit better (around the 285 mark) and Labour doing quite a bit worse (around the 265 mark) and the SNP around the low 50's (53 atm) and the smaller parties doing somewhat better (the LibDems not getting wiped out as badly, to Labour's expense).
But I'm more worried about the underlying data they're all using - the opinion polls. This bit of the wikipedia page on the current opinion polls details the methodology of the different polls. To quickly summarise:
Each poll takes a sample, obviously, and as well as asking about voting intention asks demographic questions (age, gender etc.), then adjusts its results to better match the demographics of the population.
Most poll results are adjusted based on the past votes of the respondents, and there is often some weighting for those undecided, not sure if they will vote etc.
Now, I don't have an issue with the adjusting the sample to the demographics of the population. The statistics for doing that, and the data for the population are well known. However, since the last election, the rules about registering to vote have been changed - each person has to register instead of the household registering. The electoral commission says this has disenfranchised many people. Has it perhaps disenfranchised women? Black and Asian voters? There certainly seems to be evidence it has disenfranchised younger voters. Has it distorted voters by earnings and employment? Because this change in the registration rules is new, the compensation rules (i.e. the way the pollsters convert their sample to represent the voting population rather than the whole population of the UK) will be out of date and probably wrong. There is a truism that old, white folks vote Tory. If the young and the Black and Asian vote are unusually disenfranchised by these rules then you would assume this would help the Tories. How valid an assumption that is I don't know, at the moment I can't test it, but it is a clear possible source of error that the model must account for without really good evidence.
Likewise, basing votes on previous voting patterns is tricky in this election:
One big, obvious question is where are the LIbDem votes going? It seems pretty clear there's a collapse, or at least a fairly large reduction but are they going Green, Red, Blue or (in Scotland) SNP-Yellow? This diagram suggests purports to show the overall changes in the votes for the mainland parties in terms of net flows. The difference between net flows and actual flows can be most easily thought through by looking at the LIbDem -> UKIP line. It seems dramatically unlikely that there really are many LibDem voters (generally pro-Europe, pro-Immigration) switching directly to UKIP (strongly anti-Europe, anti-Immigration) - looking at the other flows, I'd suggest it's more likely that flow LibDem -> Conservative should be 5 people, and Conservative -> UKIP should be 8 people, which results in the same overall thing, but it's not as numerically simple. (There are other ways to slice those 3 voters up, but this one sticks with integers and is not a poor solution numerically so lets stick with it as an example.)
Another equally big and obvious question is exactly where UKIP is getting its support from. It seems pretty unlikely there are measurable numbers of LibDem -> UKIP defectors. That graphic suggests there's a 5:1 ratio of disgruntled Tories to disgruntled Labour voters moving to UKIP. UKIP has appeared to be anti-NHS and generally pro-rich, which may well cause disgruntled Labour voters from the core, left-wing of the old Labour voters to think more than twice, even if they consider the anti-EU message to be attractive. In addition, there are other clearly left-of-centre options. Disgruntled Labour voters in Scotland are moving to the SNP or Green and in England to the Greens. Plaid Cymru is not shown in that graphic so it's hard to say if disgruntled Labour supporters in Wales are going Green or Plaid but it seems likely they're going to both, a bit, as they are in Scotland but with Plaid not being as strong as the SNP is in Scotland, perhaps more evenly.
All of these movements have to be modelled by the pollsters and there's no reliable data. In other words they're guessing. They're educated guesses, they may well be excellent guesses but we won't know until it can be tested, that is until after the actual election and the way people voted and the psephologists have done their work on the data about who voted as well.
How far out could they be? We just don't know. But, in 1992, the pollsters confidently predicted a Labour win and, instead, John Major won. (This was the point at which pollsters started introducing past voting as a guide to likely future intentions.) They were out quite spectacularly - by about 8.5% in the end. Lets say they're out by that 3% I suggested the flow was wrong for Tory -> UKIP defections. That would make Labour comfortably 20 seats bigger than the Conservatives (although still short of a majority), assuming the SNP still do as well as expected in Scotland. UKIP still only get 2 seats though. If we make it an 8.5% swing Tory -> UKIP, then UKIP are suddenly challenging the LibDems as the fourth party (they both have about 25–30 seats), but Labour get a clear majority (even without the Scottish seats) of about 5. 8.5% is a historically rare but actual error. Make it a 10% error and Labour have a majority of 20. Make it some other swing - under estimate the Tory vote by 8.5% again, at UKIP's expense only, and they could have a majority of about 50. Both UKIP and the LibDems would get practically wiped out.
I expect the errors to be closer to the 3% size than the 10% size, simply because the people doing this job have a lot of accumulated experience in it but there's something else. In previous elections there have been small differences between the various polling methods - usually 1 or 2% in the lead at most, and that could be sample error or changes over time since the samples aren't necessarily taken at the same time.
But not this time. If you look at the polls for this election, there are a cluster of polls, ICM, Survation and ComRes which pretty consistently give a Conservative lead of about 2–6%. YouGov is more variable (it's also published more often which probably accounts for this variation) but usually has a Labour lead of about 2–3%. There's a spread, often on the same day, of 8% or more in the lead being reported and quite typically over 5%. I'd expect the error's to roughly cancel out, so somewhere between 2.5% and 4% with some polls on each side of the true value - another reason why I think a 3% error is pretty likely. But, it's not impossible that the most extreme of these (usually ICM or YouGov) is the closest to being right but is too conservative (small-c note) in its modelling and the others are just plain wrong by a lot. That is, whatever model they use for their predictions that makes them predict more Tory or more Labour than the others is right, but not strong enough. We could have instead of a 4% Conservative lead (the last 'big' figure for them) we could easily have a 7% or even a 12% Conservative lead. Instead of a 3% Labour lead we could easily have a 6% or even an 11% Labour lead simply because the models are broken. All those factors I listed above about why the models aren't as reliable this time are just stacking up and the adjustments from the pollsters aren't the right ones. Those differences, if the models really are that badly out mean we really don't know what we're going to get - and a hung parliament isn't a guaranteed outcome.
There is also thought to be a large undecided proportion of the electorate in this election. The various pollsters try to account for that in various ways (this may account for a chunk of the differences in the results, YouGov discounts them, most others weight them to their previous votes and a history-based belief that floating voters that vote decide to vote 2:1 for the incumbents - but this time there are distinct new realistic choices in several places) and if that's true and a lot of voters make their minds up at the last minute, that could also change the outcome markedly - although there is still over a week for some of those to make up their minds of course.
Roll on May 8th!
Thursday, April 23. 2015
I wonder if George Osborn regrets mentioning Deutsche Bank in his interview on Today this morning? He was the 'big interview' at 8:10 and depending on where you live you may be able to listen to the interview if you wish. In the interview he lists a number of companies whose analysts say that sticking with the current (Coalition according to me, Conservative according to him) economic plans is a Good Thing™ and the guessed at Labour+SNP plans (actually he insisted on calling them Ed Milliband + SNP plans) would cause economic chaos. One of the half a dozen or so companies he mentioned that backed his plan so prominently was Deutsche Bank.
A few hours later, but still on the same day, Deutsche Bank is hammered with a record $2.5bn fine over interest rate manipulation. While I appreciate this may be a different group of people within the same organisation, it's definitely doing a lot for the sense of financial probity and trustworthiness. "These people like our plans and predict good things if you elect a Conservative government." "Oops, these people have just been hit with the biggest ever fine for financial misconduct."
There were other interesting things too. The financial recovery relies on electing a Conservative government, as does the last five years. He seems to have forgotten there was a coalition government and that although no poll suggests a Labour majority government - a point he was keen to stress - no poll suggests there will be a Conservative majority either - a point he was all too keen to ignore. But that's just political posturing. If the Tories don't form the next government (in coalition or otherwise) he'll be out of a job and what he said about his policies won't matter. That's how the system rolls. He'll probably, as the person in charge of the election campaign, be so tainted he'll be out of the running for the next leader of the Tories too. But all of that pales into insignificance with choosing to use Deutsche Bank to support your plans on the day they get fined $2.5bn for cheating the financial markets.
Saturday, April 18. 2015
OK, while I can see how some people will like what Hocus Focus does after less than a week I've thrown it away.

It does what it says it should but I just don't work in an environment where that's what I want. I like choosing whether to hide an application or not, depending on exactly what I'm doing. Hocus Focus does it automatically without any sense of what I'm doing.

If I worked in a job where I was routinely working in a single app and all the others actually were distractions, it might be different. Several authors whose blogs I read write in Scrivener for example, and pop out to their browser for researcher, to play on Facebook etc. Hiding everything except Scrivener and then everything except their browser is probably great for them. But I really do routinely have 3-5 different apps open and I'm working back and forth between them all (Coda, Safari, nvAlt, Byword, iTerm + sometimes Chrome and Firefox), plus I'll have other apps open (Todoist, Skype etc.) that I might hide or not depending on what's going on. It just doesn't work for me to have those apps hiding after some automatically determined time, so it's back to manual.
Thursday, April 16. 2015
How George Osborn must be regretting saying we should ask every politician to explain how their policies would be paid for. You can quibble about the fine detail - and plenty of people are - but the other parties are making the effort to say "We'll do this to pay for that" while the Tories are suddenly making announcements for lots of extra spending "We'll fully fund the NHS spending plan (£8b)" and so on but when it comes to saying where the money will come from they're saying "Trust us, we found the money in the last parliament, we'll find it in this one too."
The thing is, I do trust them, roughly, to do it. I just don't like what it means. The Tories have said they're going to ring fence education, increase health spending and continue their triple lock on pensions. Every other sector of public spending is up for cuts while they continue their drive to get a budget surplus by 2020. So, how do you get an extra £8b for health? Easy: you cut more deeply somewhere else, or, of course you raise taxes somewhere.
Let's assume the promise not to raise VAT actually holds up for a few years until they can claim it's a change in economic circumstances that require it. And the promise to raise the zero rate allowance. So there will be a rise in National Insurance. That's one obvious route that isn't instantly anathema to their party (alternatives like raising the top rate of tax are). There was a leak suggesting there are plans to - well you can choose if you prefer the verb cut or slash - a further £12b from the working age benefits budget. The cast bulk of this is credits for people in low paid work. I'd expect to see that figure be raised markedly. There will be a radical lowering of the cap on maximum benefits to be paid as well. I suspect the NATO commitment to 2% of GDP going on defence will be out of the window. And so on. And suddenly you can find an extra £8b.
Of course these decisions are taken in a vacuum.
The Tories essentially deny the rise in use of food banks has anything to do with the harsher sanction rules for JSA and the reduction in benefits for those in low paid work and the rise in VAT putting a strain on their budgets. In fact many of them claim it's a mirage, people simply knowing it's an available service and asking for it. The massive rise in usage and the numbers of new food banks really suggest that's rubbish. Part of the rise in usage of the NHS is a rise in cases of malnutrition linked to poverty along with other poverty-related cases. Slashing the welfare budget further to pay for the plan to meet current needs will, almost certainly, increase the demands on the NHS.
Likewise we hear a lot about bed blocking, where people who should really be in social care (which is cheaper to run but still suitable for those with lower needs than the intensity of a full hospital service) can't be sent to suitable accommodation because there aren't enough places. This occurs because social care accommodation is run by the local authorities and their funding has been cut (and will presumably be cut further) and while they've tried to not cut social care budgets inevitably, as our population ages even if you don't cut the budget the demand is rising and there's certainly not been an increase in funding to match that. If the Chancellor is finding £8b and a chunk will come from here too, and bed blocking will only get worse.
So yes, I believe the Tories can find an extra £8b. I just don't like the answers to how they'll do it and the implications for the NHS, and everyone else for what it means.
---
If you would like some data rather than just my opinion on the likely link between sanctions, austerity and the rise in food bank usage and the like you might like to read
report into the food aid landscape (PDF)
or
the accompanying press release
or, if you have access,
this BMJ article (PDF)
.
Thursday, April 16. 2015
The 1995 film Twelve Monkeys might not be an obvious inspiration for a TV series adaptation. Like a lot of Terry Gilliam's films it has rather a cult following. Like a lot of films with central themes of insanity and time travel - and while we know Cole really came back from the future he acts as a scavenger and survivor and would quite possibly be imprisoned or diagnosed as mad on the grounds of PTSD without 'raving' about time travel - it's also quite hard going for a general audience. That's not to say it doesn't have its fair share of fans, including me.
When SyFy announced it was going to adapt the film to a 13 episode series called 12 Monkeys I was cautious, but prepared to give it a go. There's a well crafted story that fits neatly into just over two hours, could it really be nicely expanded to about 9 hours of story time? (With "Previous on…", titles, credits etc. the 9 hours and 18 minutes or so of air time you get in 13 episodes is probably just about 9 hours of actual storytelling time.)
The show established in its very first episode how it was going to be similar to the film: Cole is still our time traveller and the protagonist, he goes back to find Dr. Railly, sent by Dr. Jones aiming to stop the plague that devastated the world's human population. It establishes some ground rules too, about paradox devices (Cole has the future version of the watch that Dr. Railly wears and damaging the past one affects the future one, bringing them together is bad) and so on. However, it also establishes the future people don't really know exactly how to achieve their goal: they think they have to kill Leyland Goines and all their problems will be over. Poor Leyland is dead by the end of episode 1 but the future is still plague-devastated.
The show, or more specifically the show's writers, use their extra 7 hours of storytelling time to do various things.
In 2015 there is a lot more about the possible development of the Army of the Twelve Monkeys for example. There is a complicated CIA plot involving the possible spread of the virus that must be headed off. There are various moments of Dr. Railly's life between first meeting Cole and where most of the story is set that helps explain both how she's invested in the fight against the virus and how she's come to leave the CDC while retaining her links and respect - which is useful at various points while allowing her to drop everything as Cole randomly drops into her timeline again.
There is, to balance all this current time material, a lot of exploration of the world of 2043 as well. They look at various different groups of survivors, from Cole and Ramse getting along as a pair to large groups of scavengers operating as raiders (think Mad Max but with less vehicles), to Jones and her team driven to send Cole back in time to a bunch of military types living on a base who are chasing down every computer they can find in the hope of developing a cure. Just to really stretch your time-travel sensibilities, quite a lot of the 2043 story is told in flash-backs and the like, although some is told real time too.
And, of course, they take the time to explore the characters in more depth. We find out a surprising amount about Cole's life history, and about Railly's, which shouldn't be that surprising. But we also find out a fair amount about Jones', Ramse's and a host of other characters as well. This gives some interesting story lines and, in a move that is quite unusual for US TV, 12 Monkeys is brave enough not to answer them immediately (some answers hang for several episodes) or even to appear to answer some of them one way at first and then to appear to answer them in a different way some time later.
As if that's not enough, there are odd side-trips to other time zones. Some are foreshadowed, some are used as twists and shocks. This is a show comfortable in its mythology of how time travel works (whether or not you agree with it, it is internally consistent and pretty clear) and while the vast bulk of the show jumps between 2015 and 2043 there are moments in 1987, 2013, 2014, 2017 and probably some other times. Some of the other possible storytelling uses of time travel, such as parallel time lines and the like are explored too. The confidence of Cole and his understanding of what jumping through time means for planning his actions, and the growing confidence of Railly and the implications of having a time-travelling ally are nicely handled too. There are various other characters who break into the charmed circle in 2015 at various points later on who struggle to handle it (understandably enough) and who highlight nicely just how well Railly has adapted.
SyFy in the US has been criticised (I'm not sure how fairly, I don't see their output, but their sister station in the UK doesn't have a great track record nor a great deal of stuff that makes me want to watch it) for not really doing a brave and genuinely Science Fiction show since Battlestar Galactica. Warehouse 13 was dismissed, possibly fairly, as comic fluff, although there was definitely a big chunk of science fiction in the mix there. Things like Sharknado certainly don't count. There have been odd mini-series like Ascension (which I liked but was met by very mixed reviews) which are solidly in Science Fiction territory but for longer run series The CW has been doing better with The 100 (two seasons and a third to come for sure) and even The Tomorrow People (cancelled after one full season) despite their CW 'lots of beautiful young people' requirement (even more than your typical US TV channel). Helix (also on SyFy) is possibly too batshit crazy to really count as bravely Science Fiction despite managing two seasons. 12 Monkeys has done well enough to get renewed for a second season and is certainly a brave show. It's really hard to claim a show in which time travel thanks to a clunky big machine is a central element of every episode isn't Science Fiction. Large parts of the show are grim, dark and dirty as well (something I suspect The CW avoids by and large).
Cross-media adaptations don't always work, nor does expanding a story in this way. But I thorough enjoyed this show and will be watching Season 2 with much less caution. Obviously there are stronger and weaker episodes over a 13 episode season but overall I thought they were good or excellent. Although the film is clearly rooted in the same core concept as the film it takes its own route with that idea and runs with the story and the characters. And you really have to love a show that calls Dr. Railly, the CDC virologist who warns the CDC about the coming viral plague that will destroy almost all human life and is told to rest and recover from the pressure of her work Cassandra.
If you have nine and a bit hours to spare, crank up your core, inject the drugs and let time splinter around you. Although given Orphan Black season 3 starts this week - BBC America doing gritty, hard, brave Science Fiction - you might have to wait a while to find the time!