Thursday, March 26. 2015
Tax evasion is a big, no one seems quite sure how big, problem in the UK. So is tax avoidance although that's quite legal.
While I have thoughts about tax avoidance - starting with throwing the whole mess that is our tax legislation out and coming up with a very small number of simple rules - and you pay and then claim back if you think you're entitled rather than claiming exemptions (this hurts me directly btw, I claim quite a lot of exemptions on my income since I work from home so I discount some of my household bills against income by agreement) - I want to write about HMRC and their desire to reclaim tax rather than send people to prison.
While I agree with getting them to pay rather than costing those of us that do pay our taxes more money is a good thing that doesn't mean I don't think they shouldn't be punished. Like so many choices our politicians present us, I think that it's based on a false dichotomy: pay taxes or punish. Jail is not the only punishment we have as an option. As anyone that fails to file an income tax return in time or pays late knows, there's an automatic £200 fine. No appeal, just bang, £200. No prison is mentioned, just a flat fine.
So why don't we have a change to the law to change the penalty for tax evasion to a fine? I would suggest a fine to suit the size of the evasion - lets say 100% of the amount of tax you have evaded. (I don't think there's a problem with this in principle - there are other fines that are based on a percentage of the misdeed in UK law, although rarely 100%.)
Of course it's not just personal tax evasion that is an issue. Institutions seem to positively delight in assisting people in evading tax. So to extend that concept of responsibility, if you set up systems to assist others in tax evasion - even if you pay your tax yourself (personally if you're an accountant that helps people dodge taxes or institutionally if you're a bank say, that sets up accounts that help people evade taxes) then I propose you'll be liable to a fine of 100% of the amount of tax they evade too.
No prison time means essentially no costs to the tax payer for the punishment. There will, of course, be some cost in terms of the investigation and the court cases. Systems already exist to recoup court costs and reasonable decisions about pursuing or not minor offenders (if you've made a mistake for £100 it's probably not worth chasing you through the courts, if anyone even notices), while major offenders can be chased and punished suitably (if you've evaded to the tune of £500,000 then it surely is, especially since you'll be recouping twice or three times that).
There is also a significant deterrent effect. Imagine for a moment you're considering evading paying some of your taxes. How much are you willing to risk the tax man won't catch you if you know not only will you have to repay your back tax, but you'll have to pay double? Since it seems likely people are doing this in the interests of being richer, are they really going to gamble that much?
It is my, decidedly non-expert, understanding, that all of the terms about tax evasion used here are already defined in law. All that is necessary is some guidance to change the punishment and clear guidance to HMRC about pursuing and punishing the wrongdoers in accordance with these guidelines. It's a relatively small, easy change and I bet any party that introduced it would get a shed load of support very quickly and easily. It's not just a gimmick - it strikes to the heart of the matter. We don't particularly like paying tax and a lot of us don't like some of the ways our taxes are spent but we really don't like people who evade paying their tax and then hearing that they get away with it. This seems like a fitting punishment AND a strong deterrent all in one neat package.
Friday, March 20. 2015
Insurgent is a welcome return to the world of Divergent and in a ploy to try and pull in fans of the first film that weren't fans of the books, it's been tagged Insurgent: Divergent Series in much the same way we have The Hunger Games: Mockingjay (Part I) even when there's no more Hunger Games actually in the films.
This is much more of an adaption of the source material than the first film was. The first film wasn't an almost shot for shot translation in the way the first Harry Potter was, and certainly missed out lots of inner dialogue as I commented at the time, but pretty faithfully told all the events as they happened. This film tells a largely recognisable version of the story (although at the end there's a definite WTF? How are they going to make the films of the final books out of that?!) but things are pushed around, some quite significant elements of the story are just swept aside. In keeping with the tone of the first adaptation, they don't deal with characters coping with heavy emotional arcs and wrestling with their inner demons, so those bits are virtually all gone. In addition several of the action heavy scenes from the book are rewritten in the pursuit of making this more of an action/spectacular movie on less of a budget (there are scenes in the book that would stretch a Peter Jackson budget which I'm pretty sure this film didn't get).
This still leaves Tris as a mostly bland young woman who is pretty and "the chosen one" - the only thing that distinguishes her from millions of others in films is the use of the female pronoun. Katniss at least has her ordinariness and luck, Tris really is special. Four is treated even worse - all the things that make him interesting as a character in the books are removed and he's bland fantasy boyfriend - for the sake of his name, we'll make him model 4.
It's tempting to speculate that the hand of the studio is in action here. Tris is allowed a little bit of guilt in the form of nightmares about watching her parents die and killing Will (ironically enough given my comments about stripping out emotional arcs Tris' guilt is handled much better here than Katniss' PTSD is in those films) but otherwise the elements that strongly distinguish the original books from The Hunger Games books are stripped and we get films which are regarded as hanging on the coattails of The Hunger Games.
That is not to say it is all negative. Far from it. On its own merits, the film still hangs together well. It rather pleasingly doesn't tell you everything up front, it just leaves you to find out as the characters do.
It has a lot of strong characters, both male and female with their own agendas. Some of their agendas we see in action from the start: Jeanine, the boss Erudite is lying through her teeth about the attack on the Abnegation faction, blaming it on the Divergents when we know (if we remember the last film) it was all her actions that led to it. Some agendas have to be teased out more and are less damaging: Jack (the leader of Candour) wants peace and the rule of Law and more particularly Truth back. Some agendas such as Evelyn's are presented in one light and then taken in a variety of ways depending on need and emotional reactions to her. As a guide to growing up in a world bombarded by political messages it's perhaps a better guide than The Hunger Games. Although there are plenty of cannon-fodder characters and special effects and so on, this film also takes the time to establish one major and two significant new characters while continuing on with several others around Tris.
And it's satisfying in its own right as a sci-fi action movie. There are a series of sims that must be passed to obtain the magic plot token. Sorry, I mean open the mysterious artefact from before the disaster. It's only five years since Inception but some of the scenes during those tests put similar scenes in Inception to shame.
I'm not a film-maker but this probably isn't the adaptation of the source material I'd have made if I were. There weren't rumours (as there were from Fifty Shades of Grey) that the relationship between Veronica Roth (the author and co-producer of the first film) and director was bumpy but I noticed her name wasn't associated with this film that has diverged (sorry couldn't resist) so much more from the source material. That said it made a completely acceptable movie to watch and enjoy.
Bechdel test: Yes, easily. There are multiple named female characters. Many of them have conversations that aren't about men. In fact the very final scene is one such.
Russo test: No. No one in the film identifies as LGBT.
Sunday, March 15. 2015
White Bird in a Blizzard is based on a piece of literary fiction of the same name and if you go into it not knowing that it will rapidly become apparent as the film unwraps itself.
Structurally the film is told across four chapters, each a snapshot in four successive Januaries, in the life of Cat Connors from 16 to 19, as she grows from a sexually inquisitive and active teenager to a somewhat mature young woman while coping with the sudden disappearance of her mother when she's 17. This includes nothing actually explicit but a fair amount of Shailene Woodley topless as Cat sleeps with the hunky but stupid boy next door, Phil, and seduces the ultimate antithesis of her father as she explores her sexual nature. There's more than enough sexy times to get the 15 certificate though.
Ramping up the sexual tension and psychodrama, Eve, her mother, is still slim and sexy and more than a little jealous of her daughter's youthful beauty. She starts to vamp it up. (And face it, when your mum is played by Eva Green and she's trying to vamp it up, you're in trouble.)
To add to the distinct feel of literature a lot of the story isn't told directly, it's revealed very indirectly, in conversations after the event with Kat's friends Beth and Mickey or with her therapist. Even more of it is revealed in Kat's dreams which are littered with metaphor and poetic imagery in a beautiful way that works really well. They also give the film its name, dressing Kat in white and having her in a snowstorm.
The build up to the reveal that you expect is strongly foreshadowed, as you might expect. Then there is a little twist at the end that just shifts it all and for me came completely out of left field but worked really, really well.
I commented about Silver Linings Playbook that I don't mind small, true-to-life character driven films but I have to find some or most of the characters sympathetic. Some of the peripheral characters in this film were too sketchily drawn to evoke sympathy. They were also too sketchily drawn to evoke antipathy too. Both Eve and Cat are flawed characters - they have traits I looked at and went "Oops, no, you're really going to regret that" but on balance I found them both sympathetic characters which certainly helped.
This film won't appeal to everyone. If you don't like literary fiction I'd avoid it. Although Shailene Woodley carries her part completely competently, the film picks up and zings when Eva Green is on screen. Part of that is the roles of course - there's a big difference between a teenager on prozac and a young sexy mother who is vamping it up after all, but I can't help thinking part is the difference between a good actress (who may or may not be a star in the making) and a genuine star.
All that said, I really enjoyed it. It made a coming of age up drama with enough of an interesting extra to distinguish it from a million others of that type. The dream sequences are beautiful and add to the storytelling in interesting ways. And the psychodrama works well. I don't know how I'd feel if I was a teen still: I think I might be confused, but looking back from my age it's a treat.
Bechdel test: Yes. There are multiple named female characters. They have all kinds of conservations, most of the film is women talking to each other. Sometimes it's about men but a lot of it isn't.
Russo test: Mickey is out and gay. He's one of Kat's closest friends so he's probably OK on parts two and three as well. The film definitely passes all three parts. (there's spoilers involved in identifying who and how though).
Saturday, March 7. 2015
This film is one I feel like I ought to like much more than I really do. It's a film where there are a lot of actors I normally like watching, including at least one that I would go out of my way to watch, and yet I really struggled to get through this film. It also tackles a storyline that ought to be tackled more and does so with a fair degree of sensitivity.
Part of my issue with the film is about me. In the same way I like Godzilla far more than it deserves because of the memories from a couple of decades ago it brings back, I have issues the character of Pat who reminds in far too many ways of an erstwhile friend who danced, suffered from bipolar disorder and didn't like taking his meds either. Pat is different to my former friend in many respects but there are enough similarities it was hard to watch him and not have some of those emotions come up.
But a sense of disappointment spilled out to many of the other characters too. I don't necessarily struggle with small, true-to-life characters in films - I loved Boyhood, Dallas Buyer's Club and Locke for example and I plan to see Still Alice as well and for the films on that list I've seen they're all small, true-to-life. They're people you might meet, or pass in the street that are being portrayed rather than superheroes or similar.
The problem for me with Silver Linings Playbook is that none of the characters are really sympathetic, with the possible exception of Pat's mother. I certainly have moments of sympathy for both Pat and Tiffany and many for Pat's mother. How can you not be sympathetic for someone, mood swings or no, who thinks things are on the up in his marriage and comes home to find his wife screwing the 20-years older history teacher in the shower? It's equally hard not to be sympathetic for the widow whose husband died when he stopped on the way home from Victoria's Secrets to help an elderly man change a flat tire and got killed by a speeding car.
However, I have many more moments when I'm really surprised they don't send Pat back to the mental hospital (except it would ruin the film). Also Tiffany's manipulations are so obvious to me on all levels that the big "twist" comes more with a sense of wanting to smack Pat that it took him that long to catch on than anything else. Her manipulations do make me wonder about the death of her husband too, it's just so perfect and at a point where she's lying so much it seems manipulative. But it's hard to warm to someone who is that blatantly manipulative regardless of her loss. Pat's father seems to be an emotionally abusive, small-time crook with very few redeeming features. The litany goes on. Everyone in life has their issues but they all seem to be painted in a particularly unflattering light in this film, highlighted as if they're not people, they're mental health problems in some ways in fact.
Although I consider Jennifer Lawrence to be one of the best young film actresses we have, part of me wonders if she won her Oscar for this for "playing ugly." It wasn't ugly in the traditional sense but she plays mad and damaged and that is considered brave by the Oscar voters. I think she's done better work in better movies without being rewarded.
Although I didn't enjoy this film, I don't regret watching it. I'm pleased I didn't see it at the cinema though. Watching it in little bursts when I was relaxing and doing other things was a much better way to see it.
Bechdel test: Yes. Veronica and Tiffany have a conversation about Veronica's house and how Tiffany is coping with her new life. But where there are some films that I find myself wondering if four lines constitutes a conversation or not, they manage two or three topics!
Russo test: No. As usual no one identifies clearly as LGBT.
Saturday, March 7. 2015
Following on from yesterday's post, the broadcasters have called Cameron's bluff. The text of their response in full (with a very short comment paragraph on top) can be read at The New Statesman
I also heard an interesting interview on PM last night with a Tory backbencher to stand up who offered to step up and take Cameron's place. The offer in itself wasn't interesting - the Tory election committee certainly won't let that happen but he did point out from the other side that we officially don't directly elect a PM, we elect constituency MPs and the leader of the largest party becomes the PM. I'm not going to vote for Milliband or Cameron (or any other party leader for that matter), in fact the list of confirmed candidates where I live to date is:


Ken Guest - UK Independence Party (UKIP)


Nick Love - Liberal Democrats


Rachael Maskell - Labour Party


Robert McIlveen - Conservative Party


Megan Ollerhead - Trade Unionist and Socialist Coalition


Jonathan Tyler - Green Party


There may be others to come as you can stand up to 6 weeks before the election so there's still a couple of weeks to go.
Anyway, back to the interview. He suggested that having the final weeks of the campaign dominated by discussions about the leaders and their TV debates was not useful because it ignored the local issues and debates about the local candidates - the people for whom we will actually be voting.
While that is strictly true it is also disingenuous. Many people vote for a party, regardless of the candidate's name. For example, unlike some, I know my local MPs name. However, I didn't know he was standing down at the next election until I got that list for this post and ran my eyes down it. Given the size of his majority, there's an excellent chance Ms. Maskell will be elected simply because many people here will look for the Labour candidate and vote without even reading the name next to it. Many people vote for policies not local candidates. Many people vote for the best leader. Many people do vote for a good constituency MP as well.
Having the national discussion dominated by the TV debate does not prevent those who want to read the manifestoes doing so, either online or in print and making an informed decision on every little detail of the policy. (There are those that suggest, as with this parliament, it may not be worth it as we will have a hung parliament and no single party large enough to deliver clearly on its manifesto. But people can still read the manifestoes.) Just because there are TV debates does not mean voters will not have plenty of chances to meet the local candidates if they choose and vote on local issues. It is extra information, it doesn't prevent those who wish to engage in other ways still doing so.
Cameron has gambled and lost. He's backed himself into a corner and while I'm sure he's got some cunning plan in reserve - I suspect a legal challenge that the broadcasters are failing in their duty of impartiality that I hope OfCom has the balls to throw back in his face: the broadcasters are offering him the chance to attend, he's the one not taking it - wherever he goes from here he looks more and more like a petulant bully. This isn't Russia, we don't take well to leaders with such a dictatorial style.
On the bigger scale of things, going forward, I hope OfCom uphold the broadcasters' position because, come the next election, I hope this is held up as the example of how NOT to do this to all party leaders and campaign strategists. I'm Ok with there being negotiation about who should be involved, what the spacing between the debates should be - we don't have a long enough tradition of these things to have all the wrinkles sorted out yet. These two longer multi-header and then a two-header seem like a decent structure to me but we shall have to see. After the manifestoes, in the last 6 weeks or so of the campaign seems essential so they're actually a serious part of the campaign and the debate and questions can swirl around actual promises and issues rather than launches that are not yet set in stone or 'our team is still working on that.'
TV debates, and more, are part of our future and it isn't up the PM, any PM of any party, to dictate how our democratic process is given to us.
Friday, March 6. 2015
So our glorious leader thinks he can control the TV debate(s) in the build up to the election. I'm sure this will play as very weird in the US, if it plays at all - TV debates between the presidential candidates have been a staple of their elections for decades.
Of course the situation over here is more complex. While we have only two large parties and the chances of anyone other than one of those being the dominant force and their leader becoming our next PM is essentially zero (at least in 2015), we have multiple parties that will probably or definitely win seats in Westminster. For the last almost five years we've had a coalition government obviously, the Conservatives and Lib Dems. The SNP, PC and for the last election Greens have had MPs. The main parties don't stand in Northern Ireland and there are their own parties - Sinn Fein, the SDLP, the DUP and so on (in no particular order except how they sprang to my mind). There are often independent MPs who stand in a particular constituency on a local issue - protesting against a corrupt MP, against plans to close the local hospital or similar as well.
So at the last election, we had three debates, all of them between the then PM Gordon Brown (Labour); the Leader of the Opposition (and now PM), David Cameron and the Leader of the Lib Dems, Nick Clegg. They were, unquestionably, the biggest leaders of the main forces in British politics, despite the other parties and independents they were going to lead the biggest parties. There were special debates on The Daily Politics that included all the other mainland parties - which were essentially only watched by the really politically interested. Lets put it this way, despite the comments on my blog about the last election which clearly make me significantly interested, I didn't know about them (or certainly have no memory of them) until I checked Wikipedia for the precise details of the 2010 TV debates to write this. From the point of view of the electorate these debates were a roaring success with high viewer figures (I can't find a source but a news programme discussing them suggested over 22M, our best typical TV shows at the time were getting about 12–15M) and a series of interviews played on the news today suggests people still remember the impact of those debates whether or not it changed their voting intentions. All of this sounds like a good thing when you think that we're supposed to want more voter engagement, more participation and so on.
However, judging by opinion polls, our political landscape has changed. Support for the Lib Dems has more or less collapsed. It was running at about 25–30% in the build up to the 2010 election (they averaged about 24% nationwide at the actual poll in the end, although over 40% in the seats they actually won as the general rule predicts for UK politics). It's currently between 5 and 10% over the last 10 opinion polls. In 2010 UKIP, the Greens etc. were lumped together as "Others" and totalled 9.8% of the votes (UKIP actually won 0 seats, the Greens 1 MP, and so on. Most Others are non-national parties such as those in NI, the SNP and PC.). This year, although they've dropped back from their real peak in January, UKIP are polling consistently about 15% (there's actually a very narrow range 13–16 in the last 10 polls) and the Greens are polling 5–8% but typically higher than the Lib Dems (higher in all but 2 of the last 10 polls, equal in 1, lower in 1). These small numbers in the polls could easily, with our system, translate to 0 seats but the chances are they'll translate to a smallish number where there's good local support and/or a standing MP is stepping down. Non-national parties such as PC and the SNP will also return MPs (the chances are pretty high the SNP will return a lot judging by the news out of Scotland) but their support is not recorded in national opinion polls except as Other.
So, this year, there was going to be a very different debating structure to reflect these changes. There was an initial proposal for 2 four-way debates: Labour, Conservative, Lib Dems and UKIP plus a two-header: Labour and Conservative. Supporters of the Greens protested that their leader should be included in the four-way debates as the Greens are consistently polling higher than the Lib Dems. The broadcasters countered that the Lib Dems are likely to win more seats despite the poll showing. (This is not unreasonable, we tend to return sitting MPs as they have local support that can far outstrip national ratings. The Lib Dems polled about 24% overall but some of their MPs polled well over 60% within their constituencies. They have to lose a LOT of support locally to lose their seats. Some will but not all of them. It will be interesting to see who survives and who goes in formerly safe Lib Dem seats.) David Cameron announced he wouldn't take part unless the Greens were included. While this might be principled (I was inclined to doubt it then, most politicians in charge of parties just aren't principled after all) and was allowed to play that way it certainly played to his desire to avoid a TV debate. The TV companies came back with a proposal to include the Greens, the leader of the SNP and PC as well (and to do separate things for Northern Ireland which are hardly ever reported), and still keep two of those plus a direct head-to-head.
Cameron has now attempted to veto that, to say he will only do one "hydra debate" with multiple party leaders and that it must be more than a month before the actual election. His opponents, all them, say he is running scared. He claims it is a principled stance to clear it all up and get a TV debate.
I'm not sure he's scared per se, but I think he is playing electoral calculus. The Conservatives have a huge war chest, more than they're allowed to actually spend on the campaign. Labour and the other parties don't. If they get the TV debate out of the way, then (bearing in mind the old adage "a week is a long time in politics") the last month will come down to a more traditional campaign and their money ought to help them do better. It won't necessarily but it ought to. It also helps them try to control the debate and the topics. Yes, everyone else makes their own press releases and launches but each party at least controls their own agenda (by and large, baring sex scandals, racist outbursts from candidates and the like). With the TV debates, the discussion is about the TV debates. Cameron is probably not scared of Milliband: although he could lose that debate you would think the guy that used to work for a PR firm and was groomed at Eton ought to beat the self-admitted "politics wonk." But the other two? Clegg is a ferocious performer at these things and ran rings around Brown and Cameron at the last election. He could well run rings around Milliband and Cameron at this election. Farage is definite personality and could certainly do well. Bennett made the headlines for all the wrong reasons after a recent interview where she had a mind blank - something similar could steal all the headlines. And he has zero control over any of that.
It should also, for those that believe the traditional print media still have a strong voice, give him an advantage because there's a strong right-wing bias there that is probably more in his favour than UKIP's and certainly more in his favour than Labour's. I'm less sure how important that is these days but I think politicians think it's incredibly important. Newspaper circulations have collapsed to the point I think you now have to wonder how significant the "double coverage" effect is. The traditional idea was that people bought a paper and read it, and a small number of institutions (libraries, cafes, etc.) and people (mostly politicians and journalists) bought copies of them all. If you sold 3M copies then 100,000 or so being sold to someone who bought a copy of every paper still meant you had an impact (maybe) on 2.9M people. With sales closer to 1–1.5M and MORE coffee shops and cafes so potentially more places buying a copy of them all… the impact is surely smaller? But politicians still buy them all and think its big.
Nevertheless I think he's making the wrong call. He does looks scared but worse than that he looks patronising, bullying and manipulative. Teresa May coined the term "The Nasty Party" to describe her own party with its narrow base and narrow sympathies - lacking sympathy for the poor, minorities, being anti-gay and so on. Cameron has managed to cross one of those off the list but not done much for the other two. But there's a very patrician attitude that goes with it too that contributes to the impression. That sense of him being entitled to tell us plebs when he will let us have our panem et circensus doesn't really sit well. And he needs to reread his Juvenal - the idea is to give us more to appease us. This might play well inside his campaign office and to a subset of the Tory faithful but nationwide I think this could be a moment where after the campaign the analysts will look back and think it was a serious misstep.
The absolute worse case scenario is that the broadcasters agree to have a large debate on the deadline to allow him to attend, and two after, to which they invite him and he fails to attend. A "seven" header with no Conservative representation would be a disaster for his party. With someone other than him? Who does he send, Osborne would be destroyed, May might work but will the Tory faithful support her? Who else is enough of a name and going to be here after the election, with Hague standing down you can't really send him to the debate, he'd be dismissed as irrelevant and of the past too easily. So that strategy is risky too. Whether there's a "Milliband monologue" or a two-hander between Milliband and Clegg that would be a disaster too. One gives 90 minutes to the main rival and however much the press pretends he's a clown a 90 minute interview on the BBC a week before the election is 90 minutes of free publicity. If Clegg is there, Milliband wouldn't get it all his own way, but the Conservatives would get hammered from two sides and while attacks on the government wouldn't go unchallenged, attacks on the Conservatives would. Milliband and his advisors are astute enough to work out how to present their policies and slant them to attack the Tories rather than the government and let Clegg have his moments of glory while getting their message across. And all the broadcasters need to do is say "OK, we'll accommodate your dates and have the first before your deadline. We'll invite you to the other debates and if you choose not to attend, that's up to you." I hope they have the bottle to do just that. I'm not going to vote Conservative of course, but even if I were, I hope I'd have the principles to say this. TV debates are a good thing for the democratic process in the 21st Century. We should encourage them and they shouldn't be at the whim of the Prime Minister. He is our elected leader, not our liege lord, not our dictator. He leads at our whim. We don't have a lot of ability to recall him but just occasionally he needs to perform and jump through hoops for our amusement or we'll turn on him. It won't be a revolution but floating voters will remember this too, it will be part of their electoral calculus.
Sunday, March 1. 2015
Jupiter Ascending isn't a great film, it almost certainly won't win any awards or anything, but it is a good, fun film and in many ways it is an interesting film.
This isn't a film with a complex plot. I'd go so far as to say it isn't a film with much core plot at all. Essentially Jupiter Jones finds out she's special and goes to meet the rest of the family. They all have their agendas, including Jupiter, and these are what drive the movie along. In that sense it's a pure character-driven story. That makes it hard for me to judge how a plot-fiend will take it, because there isn't a strong plot driving it forwards but there are no plot holes either, Jupiter moves from encounter to encounter with some internal logic and each of those encounters moves with its own logic based on the character interactions. At that level I think it works well.
Some have argued that Jupiter is wholly reactive and passive through the film. I don't think that's true. There are certainly times when that's the case but there are many times when she makes her own choices, whether they're good or bad. Some of those choices are absolutely terrible in my opinion, some of those choices are complex and in parallel with others but are her choices. As the movie develops she makes more and more choices of her own that are clear and distinct. And while you can argue about it, it certainly felt to me fairly organic. She went from being an illegal alien cleaning houses for rich people in America to being totally out of her depth and trusting the person who had saved her life and really not understanding the world she was living in. She didn't make many choices because she didn't understand what was going on but as she started to understand better she started to make choices for herself once again. It's not classic hero behaviour but I think it makes sense for her character.
Most of the characters are nicely drawn. Jupiter, Caine, Stinger, and Jupiter's mother and aunt, cousin and the patriarch of her Earth family are not necessarily fully rounded but they're more than just sketched in despite in some cases very limited screen time. Kalique and Titus Abraxas (the Abraxas family are Jupiter's off-world family) and several others of the various space-dwelling factions are also more than just quick little sketches. Poor Eddie Redmayne as Balem Abrasax is the only really two-dimensional stereotyped character but he throws himself into it with a gusto and chews the furniture and makes the most of it. Heck, even Jupiter's father, who is only seen for 3 minutes, is a more rounded character than Balem Abrasax.
In all honesty though, those elements don't always work in combination. I think, perhaps, there are just so many ideas bubbling up in short order in some places that it is a bit too much to take in and the pacing of the film doesn't help. As I was taking in one idea there was a leap to an action scene or a different exposition scene where, perhaps, a 30 second to 1 minute beat to let the idea sink in would have helped more and made the film a little smoother. I'm not sure if I'll rewatch Jupiter Ascending but I think having seen those things once it will be smoother if I do.
There is enough that is good that the thing that really works is given a chance to work. Visually this film is wonderful whether that's at the small scale - be that little fights, or Jupiter vs. the bureaucracy and the various offices and officials or huge scenes like the Aegis cruiser jumping into space or the refinery or the cathedral or similar. I wouldn't see a film just for the effects but the effects in this film are more than good enough that despite the occasional clunky moments that I felt were present I was engaged and thoroughly enjoyed the movie overall.
While thinking of the visual impact of this film, it's worth pointing out that this film has definite moments where you have to say in the commonly used parlance this film is shot for the female gaze. To be less heteronormative, it's shot with a somewhat sexual appreciation of the male form (the film got a 12A rating so there's no really naughty bits). There's lots of lingering shots of Channing Tatum shirtless. That's not unique, but the almost lascivious camera pans and clear depiction of Mila Kunis admiring the view are rare. Similarly the scene of Caine and Stinger wrestling might have a plot reason, however flimsy, but it felt much more like watching a movie where the character goes to watch mud-wrestling as Jupiter enjoyed watching the two men roll around on the ground. Men watching women catfighting isn't that common but it's not unknown, and there's a porn genre for it. Women watching men fight for the visual spectacle, and it being shown, almost with her licking her lips? I'm sure it happens in fetish porn but I don't remember it in mainstream cinema (although it may have happened) and not in a mainstream release.
Parts of this film made me think, at the beginning, of the Cinderella story with the rags to riches element - toilet cleaner to owner of the planet certainly has parallels to cleaning the cinders to marrying the prince, just with a space opera twist. Jupiter also gets her fairy-tale wedding AND the man of her fantasies. While I think that parallel is somewhat fair, Jupiter's family life is very different to Cinderella's which is rather important as the story unfolds. While I think Jupiter Ascending will probably become a cult movie in its own right I suspect, possibly for the first time, the real driver of that status will be young women. Where Frozen worked for 3–8 year old girls (and others certainly but they're the real drivers of its success) my feeling is this will hit that same sort of wish fulfilment for young women 10–15 years older than the Frozen generation, and they will take ownership and make it a cult hit. I don't remember another film where that is the case.
As I've said above, I'm not sure if I'll watch this again or not, not seriously anyway, but I certainly have no regrets over the just under 2 hours I spent watching it and would happily recommend it. I'm not even sure it's really a good movie but it is loads of fun as well as interesting. The clunky bits are few and far between and the good bits are glorious and it's beautiful throughout.
Bechdel test: Yes. There are multiple named female characters and they have long conversations about many topics other than men. Sometimes they talk about men too.
Russo test: No. No-one identifies as LGBT.
Saturday, February 28. 2015

Although like most people in the world, I never met him, he touched my life as a child as Mr. Spock and then again as the initially possibly friendly and then delightfully wicked Dr. Bell.

I'm sure he played many roles in the middle but he touched my life playing the cool, calm scientist twice, but the way science is seen has changed from Star Trek to Fringe and a character that is in many ways the same has gone from hero, if not star, to villain. (Although the nerd is making a comeback since Fringe.)

Although the actual moment of death comes as a surprise, I knew he was ill and frail - they had to rewrite large parts of Fringe because he wasn't well enough to come back for Season 4 and he wanted to.

I'm not filled with sadness in the way I have been with some deaths, like Lou Reed's. That doesn't stop my sympathies going out to his friends and family of course. But when you're 83 and you've been ill for many years and more or less had to stop working despite what you want because you're too ill to work, then you would hope there's time to prepare. And his life is hardly empty.

Thank you for the pleasure you brought to me and to many others over the years. Others have picked up the mantle, others have been more inspired by you than me, but you touched so many, including me. I'm going to avoid all the terrible puns and just say that another bit of my life, both my childhood and my adult life is gone. It doesn't feel like it's been ripped away but it is gone nevertheless. My world is a little sadder today.
Tuesday, February 17. 2015
So long John Constantine. NBC's experiment with Hellblazer came to a premature end last weekend. It may be back for Season 2, or it may move to SyFy - either of those would be great results from my point of view.
The script writers, cast and crew gained some confidence as the series went along and with that added more of Constantine's swagger and bad habits. For example, in the first few episodes John is not a smoker. In the last few they never name his favourite brand, but the infamous Silk Cuts make their appearance. Both big and small stories from the comics (and lets face it there's plenty of material) is called on and adapted well. There are nods and Easter eggs if you're a fan - the reason Chaz appears unkillable in particular is a great blink and you'll miss it nod to the comic universe, although there are many more - but at the same time they've established their own lore and structures nicely and fitted the stories into them properly - the references are there but they're not core. Chaz, for example, is American through and through.
There is certainly a difference of opinion as to how good the show is, even between different reviewers on the same TV review site. These seem to split mostly on whether the reviewers have come across John Constantine/Hellblazer in his comic book incarnation or not. And that dichotomy seems to underpin some confusion about why Constantine, the show, is not doing better. Look at The Flash and Arrow say the comparisons, comic book adaptions doing just great, why doesn't Constantine do better? It's a much more respected comic among comic book readers after all (which certainly seems to be true, Hellblazer is a heavy hitter in the comic book world, Flash and Green Arrow are pretty much in the pulp bin).
Therein lies the problem though: The Flash and Arrow as characters are relatively clear-cut heroes. They may or may not be vigilantes and have fascist overtones (OK, they clearly are vigilantes and like all vigilantes they do have fascist overtones) but they generally take a stand against evil and try to stand up for those who can't fight back. They occasionally veer into morally ambiguous territory, such as the (hopefully temporary) alliance with Malcolm Merlyn, but generally they're fighting the good fight if you take them away from any connection to the real world and real life morality. Dear old John, even in his TV incarnation, is a con-man and a trickster. Although he calls it something different, he uses psychic paper of Dr. Who fame to get places he shouldn't be. He's also sanguine about the death of his… lets take a risk and call them friends: in his TV incarnation he meditates for 5 minutes every day before he gets out of bed about what it will be like when each of those he likes and works with is dead and buried because that's his expectation. And he tells them all this - he's not at all shy about the fact that he'll probably get them dead. He delivers too: in the course of this abbreviated season he's trapped a demon in one former friend's body, he's been shot by another, he's cleared out of the room so a friend could set of a hand grenade (admittedly to kill a bad guy who probably couldn't be beaten by other means) and more. And these are his victories! He's also trapped an angel on Earth and then lied to him because he was pissed off, and that angel is possibly his friend, seemingly an ally, if not a whole-hearted one. He sold his soul to a greater demon in order to stay alive a bit longer, in the hope someone would be able to exorcise him before it got out of hand - failing that he trusted his friends would kill him later. Although John Constantine by and large fights the good fight - he rescues children from demonic possession, sends demons back to Hell and the like - John Constantine is NOT a hero. He is not a nice person in the slightest. He will win by sacrificing anything: his friends, his soul, even himself if needs be, certainly the truth and anything else can go by the wayside in order to get the win. He's a brilliant character to read about. But for a TV show he's really not your typical central character - compared to The Flash and Arrow he's a bastard - in fact he'd probably be a villain on either show. He's even less typical as a lead character than Dexter was. In fact Dexter at least tried to act honourably and only hunt down distinctly bad people. He didn't do that because of any moral code but because he'd been told to, so he was likely to be hunted by the police himself, but his actions put him in the hero mould as much as Arrow and The Flash and far more clearly than John Constantine's actions. Yes, John saves people but the collateral damage is huge and John - it's not true that he doesn't care but he accepts it and shrugs and moves on. It's not your typical viewing material.
I hope NBC brings Constantine back in some form or another. But a move to SyFy, which is rumoured, might be a smart move. The SyFy audience is likely to have a much higher proportion of comic book fans than the general NBC audience and who will like Constantine as he's meant to be rather than a traditional hero. A mainstream channel? In the UK we can cope with less archetypal heroes. That isn't particularly because we're more sophisticated but because we don't have such long seasons as the US. TV shows still have to do well to keep coming back, but in the US, the numbers and the lengths of the seasons tend to force you towards a more clear heroic mould, at least on the mainstream channels.
And if they do pull the plug, well kudos to NBC. They tried a brave show and they backed the creative team to make a challenging character the central character of the show. John Constantine must have been a tough sell but some of his silver tongue must have been working for whoever went to bat for him, because in 2014–15 we had 13 episodes of a hard-smoking, twisted, bastard who would sacrifice just about anything on TV and they didn't back away, didn't flinch and went for it. It wasn't to everyone's taste but they made a fine TV show and a mighty fine adaptation of the Scouse bastard magician. So I'd like to say thanks to everyone involved for what you have given us. Here's hoping there's a trick hiding under that trench coat and you get the chance to give us more.
Sunday, January 25. 2015
This is an awkward film to review because to reveal enough to say why it's good to essential reveal almost all.
The film starts with a young programmer winning a lottery to go to some massive estate for a week. There are, as he wins, weird flashes, as the camera on his computer or his phone seem to be taking pictures of his face for biometrics.
The project is revealed to be a Turing test project (not quite properly formulated and stated but close enough) with an AI in a somewhat bot-like body but with the body shape of a young woman, and the face, hands and feet in flesh. The person for whom the test will be conducted is the boss of the 'largest search engine company in the world' and while it could be based on a Google project, the attitude struck me as far more Jeff Bezos (of Amazon) with, perhaps, the youthful "nerd made ultra-rich" of Mark Zuckerberg (of Facebook).
From there the story really starts to develop in a number of interesting ways I found interesting as it is obvious Ava, the AI, is intelligent and probably self-aware. There are, however, some serious questions about Nathan (the boss) and what he is doing, why he made Ava into a woman and gave her sexuality and more. It also develops into hugely spoilery ways so I'm afraid that's where my review really comes to an end. I will say I got to the end and thought they should have used Eighth Day as the closing music for the film.
I think this is a smart movie, on many levels, looking into people, power, AI and more. It's well worth your time. While it's not intended to reflect them all, it does cast something of a light on some of the wunderkind millionaire coder CEO types - and quite possibly the 'psychopath as CEO' too. A storyline that's certainly been doing the lines in the last year and a bit.
It's well worth your time and attention in my opinion.
Bechdel Test: There are two named apparently female characters but… do we count AI females? My inclination is to say no, because it's about representing women realistically in films, and an AI in a bot with translucent body parts can't do that. Even if I let that slide there is a very abbreviated one way conversation that we don't hear but we can infer is all about Nathan so it would fail.
Russo test: No. The only significant human characters are heterosexual, and again, I'm not sure the AI counts but AI characters were to count, straight.
Turing test: Yes. (Although it might have been more interesting in some ways if it hadn't, a script written by human to clearly fail the test to the audience would be interesting. But a VERY different film.)
Thursday, January 22. 2015
Euclid is a neat (and cheap compared to its rivals) one trick pony app that lets you measure things on the screen. Admittedly many of its rivals let you measure MORE things (more at once, measure angles, measure colours etc. too) but I don't need to measure angles, I have Couleurs for all my colour grabbing needs and its free.
You evoke Euclid with a keyboard shortcut. It puts crosshairs on the screen (you can choose the colour) and you click once you're in the right place to start. You drag to the opposite corner and there is a live update of the size of the box (height and width) complete with an overlay to grey out the rest of the screen and highlight the area you've selected. Release the mouse and it all disappears. In that sense it's all rather similar to a screen grab, however what Euclid adds to the mix is a zoom on the cross-hairs. The rather bad image below shows a box (but not the big cross-hairs) and the zoom box) which makes it easy for you to get the measurement pixel perfect. The zoom box jumps around a little when you get close to the edges of the screen which is a little odd at first but it takes moments to get used to and lining it up that precisely is a godsend.
Sorry about the image - I had to grab a picture on the iPad while holding the mouse button down... you can't take a screen grab with Euclid up, if you try you get the screen grab sans Euclid. But it does show the zoom box nicely. You can see the box for what I'm measuring and the size of the box too.
Couleurs is a similar one trick pony. It does a similar job to the Digital Colour Meter that Apple provide but… nicer and more up to date. You get a small window (a little larger than the window with DCM) that displays the last selected colour and, what really makes it larger, a couple of bars. One of these contains a button which will open Apple's default colour picker, the colour value in the format of your choice and a picker to let you copy/choose that value. I obviously normally have 6 figure CSS values selected, but you can choose 3 figure hex, 6 figure hex with no #, rgb, rgba, hsl, hsla, NSColor and UIColor for both Swift and Objective-C. Underneath this is a small palette of the 5 most recent colours you've picked. You pick a new colour by clicking in the colour window and dragging out. This gives you a circular loupe type magnifying glass with a central dot of 1 px to put on the colour of your choice. DCM only shows colours in RGB. I know you can use RGB in CSS but you will usually end up with mixed values or converting. Given Couleurs is free and it supports a palette of recently selected colours which is nice for those occasions when I'm working on a single site over the course of a day so working with a limited palette I can quickly click back and forth between the colours it is a nice addition to my tool box.
This image is the whole of the app, it really is that small!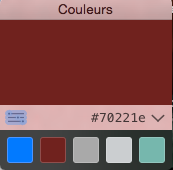 Wednesday, January 21. 2015
For my 50th Birthday I bought myself a set of Philips Hue lights. There is a Lux version that just does different intensities of white but the Hue version gives you full colour control and while you might not like my colour choices (at the moment I've got one dark green light and one dark purple in here, and a paler green in the bedroom) for me I hope it will be a blessing as I can find very low and friendly colours that might be suitable for use during a migraine as I'm starting to recover.
Setting up is pretty simple - screw the bulbs in (yes screw), plug the bridge in to the mains and your router, download the controller app then pair the bridge to the app by starting the app and, when it tells you to, pressing the big button on the top of the bridge. That's it. The bridge controls naming the lights etc. so if you switch apps all your lights keep their names.
The app from Philips is basic but simple to use and there are also a wide variety of third party apps. I've tried most of the free third party apps (more on them later) but come back to using the app that comes from Philips all the time. It's easy enough to set your own colours. You can either set a sort of white light 'temperature' from a warmish/yellow to a hotter, brighter white, or you can be braver and dive into the full range of colours. Independently of that you can set the brightness of the light. You can group lights together and affect several or all at once or work on them individually, and it's easy enough to exclude a particular light from a scene - you just turn it off in the side panel and it won't be affected at all. This is all wireless and can be controlled from your iOS device - there's an Android app too but I can't say how well that works. You can add timers, alarms and the like and save your favourites easily. Although the scenes save your colours and default brightness when you click on a scene to set the lights it briefly pops up an option to change the master brightness as well as options to edit the scene etc. You can also log in to a website so if you're in the coffee shop (or at work) you could log in and set up a timer to turn the lights on when you expect to get home.
The reason for using the Philips app? Some of the free ones are OK but do things I'm not bothered about - a lot seem to be aimed at making your light pulse in time to your music for example. Some do nice things but are buggy: one was very nice but turned my iPad's screen up to maximum brightness whenever I used it, no thanks! Another was pleasant in terms of some of the features it offered but all the parts I wanted were tucked away lots of swipes away and it was a pain to use for that reason. One of the apps that I think I've deleted made fancy use of the timers and had a candlelight option with the light colour and brightness flickering really quite realistically. Some of the apps offer alternative approaches, so that whenever your iOS device is on your local network it turns your lights on to a chosen preset. That is quite a nice feature that if I worked in a different way I might miss but working from home it's not such a big deal for me. Several third party apps offer an ability to create groups of lights that is absent from the basic app too. That doesn't bother me (I'm not sure if I'm going to get more while I live here, if I do it is very unlikely to go beyond 5) but I can see if you get close to the 50 lights you can control from one bridge you might well need such an option. There is an app where if you have a TV that does ambient light it will extend to included your Hue lights too. I don't have that sort of TV and won't be getting the app but some of the options are that crazy or immersive depending on your point of view.
These lights are very expensive compared to a normal bulb. They are also, for the UK market a bit of a pain, because they're screw fittings (ES) so you might need adaptors or to buy special lights. But I haven't had them that long and although I mainly stay in the greens and purples I have about 8 different scenes saved for working, reading, etc. We'll have to see whether any of them are usable when I'm recovering from a migraine or not but for the level of comfort they've brought in the few days I've had them in my period between migraines I think they're well worth it already it. I can imagine people who suffer from SADS and the like might also like them, although they'll probably want a rather different colour and brightness palette to mine! I often get a low-grade headache during the day and I've not had one since changing to these lights. The headaches aren't really enough to slow me down but their absence is nice.
If you live in a house with millions of lights you probably wouldn't want to be splashing out on these throughout your house but you might still want a few in certain rooms if you want to be able to control colours. More people might be attracted by the ability to control brightness easily. But, ultimately if you want the ability to control the colour of the lights in your house there is nothing like these. It might be a niche thing but it's remarkably soothing and therapeutic if it's something you need - I imagine it's also nice if it's something you'd like. I certainly have no regrets even if I'm not going to splurge on millions of extra bulbs.
Tuesday, January 20. 2015
So apparently the Tories think it's a good idea to burn any good will they might have with the Muslim parts of society in the wake of Charlie Hebdo and write to every mosque demanding they demonstrate that they're suitably British and how Islam is British enough. Muslim leaders and others feel this is divisive and promotes Islamophobia to the extent that even the Chief Rabbi has spoken out in their defence. OK, that's not quite as unlikely as the president of Israel speaking up for a Muslim but it's pretty unusual.
Lets be really clear here. The British Muslim community spoke out and condemned the type of extremists that attacked Charlie Hebdo. Many of them are offended by the actions of Charlie Hebdo but accept, however unwillingly, that Charlie Hebdo doesn't specifically pick on Muslims, it picks on just about everyone, certainly all faiths, and is deliberately offensive. I'm sure they all rather it wasn't and didn't act that way but they are also clearly and explicitly saying that doesn't mean shooting the people that work there is the right way to show your displeasure and disgust.
As various people have pointed out in their own way, suggesting that all of Britain's Muslims are responsible for the tiny number of Islamist extremists (or whatever other buzzword label you choose) is like blaming all Australians for Rupert Murdoch, all white British people for the actions of Eric Pickles who wrote the letter to every mosque and so on. It's just stupid.
That's not to say that some parts of the Muslim community don't help with the development of extremists but it is a tiny number. There are about 2.8 million Muslims in the UK according to the last census (2011) and the pattern of growth recorded. We don't know the exact number of extremists of course but there was a briefing that suggested "up to 500 British citizens might go to join ISIL" in the days before it was renamed. Lets double that and say there are about 1,000 genuine Islamist extremists from those 2.8 million British Muslims. There probably will be some more that facilitate this (although the Charlie Hebdo attackers took their orders from the Yemen, not from within France and the same is doubtless true of extremists in this country) but even it we say it's 10x more that support and facilitate these extremists, that's only 10,000 people. While that's a lot if you think of it as a village full, it's a tiny fraction of the 2.8 million British Muslims. It's 0.35% in fact, or about 1 in 300 that even supports the extremists in any way. Blaming all British Muslims for the actions that it seems pretty reasonable to suggest fewer than 1 in 300 of them support in any way - does that seem in any way fair or just to you? Far more than 1 in 300 people drink and drive, lets ban drinking completely, heck lets ban driving to make sure you can't drink and drive! - that would be an equally sane response.
I used 1,000 as the possible number of actual extremists, although it's probably a reasonable estimate, for another reason: it's the number of letters that Eric Pickles is reported to have sent demanding action. If he'd sent the same number of letters asking for help, asking how the government could work with the British Muslim community to help build a sense of community (he is the Secretary of State for Communities amongst things), decrease the sense of isolation, reduce the chances of people becoming radicalised we might be applauding his actions today. A differently phrased letter, reaching out and asking for help rather than demanding action and putting all the onus on a community that already feels marginalised. But when even the leaders of the Jewish community are saying "You're alienating the moderate Muslim community" and the moderate Muslim community are up in arms about the tone and content of a letter you've sent - doesn't it make you stop and think? Couldn't a minister, who is supposed to have both advisors and years of practise in choosing his words carefully, have stopped and thought before he sent it? The people that attacked Charlie Hebdo (and the kosher deli) in France felt isolated and apart from their French community. It's impossible to predict just how many young men and women this letter and the reaction to it will move towards feeling alienated from being part of the British community and towards being an extremist. It will probably be a number larger than zero though. It probably won't be the last straw for anyone, although it could be. One thing is certain: it won't move anyone towards a more moderate position, only towards a more extremist one.
Congratulations guys. Just what we need.
Wednesday, January 14. 2015
As I rather suspected Boyhood is a film where the gimmick is rather what makes the film. If you don't know what the gimmick is, they got the same core of four actors (and a few more at various points) to come back for a few days every year for twelve years so you can see the family growing up together. The titular boy, his sister, his mum and dad (the parents are separated so there's a step dad and so on as well) growing old together.
That doesn't mean it's a bad film though, far from it. It's charming and captivating because it does something that really no other film before it has done. This film is a snapshot of a boy growing up (his boyhood is defined as being from his first day in school to his first day in college) in a fairly ordinary family. It's not purely about Mason Jr. we get almost as much of the tribulations of his mother and his sister. We get less of his father's life but enough chunks to read things into that too. It could almost as easily have been called girlhood, although as Mason gets older it does focus more on him, particularly after Samantha goes away to college. I suspect the fact it was written and conceived by a man has slanted it to the male point of view because he was sure he could get it tonally right for a boy; there are a couple of boys parties and things and a boy walking on his sister and her friends that I assume he's comfortable writing and he wouldn't have been comfortable doing from a girl's perspective. In fact I wonder just how much it's autobiographical - the fact that Kevin Linklater, the director, also wrote it and Mason is a photographer helps direct that speculation, but so do moments like a conversation in a dark room that rings really true to the point I'm sure Linklater had a conversation like that somewhere in his school life.
There are moments of high drama and moments where it's slow. There are moments where it's laugh out loud funny and moments where it moved me to tears. Mom's tears when Mason puts his first picture back in his room and the summary of her life in particular - ouch. There are also moments where it's excruciatingly embarrassing - one that is as awkward as you might imagine is the talk about sex when Samantha doesn't want to go camping with her brother and her dad because she's going to a party and her boyfriend will be there… It's not how I had that talk but it definitely brings back all those memories.
There are conversations and moments I've never had but which are sufficiently rites of passage that everyone probably feels like they've had them, your mum telling you off because your mate used the toilet that was out of order getting shouted at in your crappy first job cleaning tables and so on.
In many ways nothing happens but at the same time this is a real-life drama of the truest kind, the kind to which we can all relate because although we haven't done exactly this drama we've all done enough of it and recognise enough of it we can easily relate.
Because of the way it's shot there's a really grounded sense of fashion, I assume American cars, and gadgets which is fun and somehow, oddly, relaxing. The incidental music too just works all the way through. Music is fairly important, because Dad is a musician or wants to be. Although I'm not a baseball fan the dad is and they go to the baseball and that works its way in nicely although not intrusively. There are on-going moments of politics and social commentary and all the rest. Some of the moments feel too rushed - Mom's marriage to Bill could be a movie in its own right - but when you're covering all of growing up in under 3 hours that's going to happen and the film does work even as part of me wants to, in a very iOS way, zoom in on that section and see the whole of that movie.
This might well be a film I never watch again but it is a film I feel richer for having watched. Having been done, no one will be able to do another one without it being labelled as so derivative, but you equally have to wonder how no one had the idea before. If you demand plot and drive and explosions and so on, you'll hate it, but as a character drama this is truly brilliant and well worth your time.
Bechdel test: Yes. Samantha has various girlie chats with named female friends at a few points. If Mom counts as a named character, which I'm never sure about, she also has several conversations both with Samantha and adult female friends that are not about men.
Russo test: Fail. Although various boys call each other "faggot" and similar there's no identified LGBT character.
Saturday, January 10. 2015
I strongly suspect there are two types of people in the audience of Into the Woods those, like me, who have seen the stage show (some, no doubt, many times) and those who have not.
If you're in the former camp, you may or may not be happy with what they've done in the adaptation process. All of us that had seen it before had a favourite bit that they'd missed from the adaptation - mine was the Agony Reprise, especially since the first Agony was so good. Despite that, and a niggling feeling that compressing the time between the acts to the point of non-existence makes a few scenes stop making sense I have to say that, overall I think it's a good adaptation.
Naturally I can't really see the story through the eyes of someone who hasn't seen the stage show but I would imagine, if you're willing to see a film of a musical it hangs together and makes sense. Possibly, in fact, somewhat more sense than the stage show as they've trimmed it to turn it from a hefty theatrical performance into a somewhat long but still family friendly film. In doing that, some of the twists and turns have been sacrificed, the complexity is gone but the story is clearer.
Since I think it's fair to say you can't really spoil a film of a musical that is 29 years old, a very brief synopsis. If you want to read more, here's the wiki page. Between the village, the castle and the titular woods you have a stir of many different fairy stories. Cinderella, Jack and the Beanstalk, Little Red Riding Hood, Rapunzel and later Snow White and Sleeping Beauty. These stories are tied together by the quest of the Baker and his wife to get a curse lifted so they can have a child. The traditional Happily Ever After occurs at the end of Act I and Act II picks up later (in the case of the film at the wedding procession, in the stage show an undefined but longer time later) and things are not quite so perfect as you might expect from happily ever after… The rest of the show deals with the cast dealing (or in one case at least in the stage show not dealing) with something more like the real life consequences of their stories. Yes, it's intricate, it's clever and it's fun.
Enough of that. In terms of the performances, everyone sang well. None of the people I saw it with, including me, particularly took to Jack, but that's rather the character rather than a flaw in the performance. Sondheim's parts are not always technically challenging in terms of their range, they're challenging in their rhythms and their word choices. (There are nice stories of him adapting the notes to a performer so they can perform the part more comfortably out there as well - he's more concerned about the words and the rhythm than the precise tune as long as the tune that's produced isn't terrible.) Everyone hit their words and rhythms and the ones with the trickier notes too hit them as well. (Sondheim was involved in the production and has quite possibly rescored for range of the performers as well as rewriting some songs.)
It's well shot too, to my mind. Obviously, as with Les Miserables, a film gives you options that a stage show just doesn't. I felt those were usually exploited and always worked well. In one or two places the director chose to make choices that seemed to deliberately refer back to how you'd have to do that scene on stage. Admittedly they're some of the trippier scenes (Red getting swallowed by the wolf for example and finding her grannie intact and alive) but they worked well in the filmed version too and perhaps highlighted just how surreal they are.
Although I've tried to avoid reviews, several of the authors whose blogs I read have reviewed it and said nasty things about Johnny Depp's Wolf. He struck me as more louche than actively predatory (in fact he reminded me strongly of George Melly in his clothes and mannerisms albeit thinner and hairier). I could have lived with a more obviously predatory wolf but I certainly didn't mind this interpretation of it.
There are many, many wonderful scenes sprinkled through this film but the staging of Agony, with the two princes was truly magnificent. It didn't hurt that Chris Pine channeled his inner Kirk and played up his romantic lead looks, as did the to me previously unknown Billy Magnussen. The setting helped no end. And the words just beautifully subvert and twist it all. (This, for me, is the real shame of the rewrite that takes out the fun of the Agony Reprise - I'd love to see what they did what that after the brilliance of the first one.)
It isn't the same as the stage show. But it's a great show nevertheless.
Bechdel test: Yes. There are a number of named female characters. You might have to stretch the point about a 'conversation' since they mostly sing to each other and some of those conversations are certainly about men. But, for example, the Little Red Riding Hood and Cinderella have a conversation at the end about making choices and telling good from bad that certainly counts. Florinda, Lucinda and Cinderella have conversations about getting dressed for the ball. Rapunzel and Witch have a couple of conversations and while one is partially about men, there's a long bit about not leaving me, stay a child and let me look after you. Some of the really significant female roles are questionably named - Baker's Wife, Jack's Mother etc. but it passes anyway.
Russo test: no. The cast is basically Grimm fairy tale characters plus a baker and his wife who want a child. There's no one who is clearly LGBT. Because of the complexity of the storylines and the plethora of big important characters it would be hard to write a character in that you didn't change just for the sake of changing them to make them the LGBT one. You could change Rapunzel's Prince to be Rapunzel's Princess say, but she'd be the Gay Princess for the sake of it and it would still fail the test I think.